The Columbus Blue Jackets have locked up one of their young defenders, inking Dean Kukan to a two-year extension. Kukan was set to become a restricted free agent this summer, but will now be under contract through the 2019-20 season. The deal will be one-way, and pay Kukan an average annual value of $725K.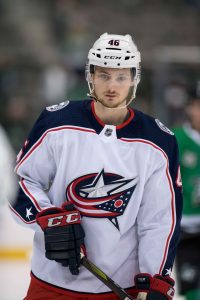 This will be the first one-way deal of Kukan's career, a nice reward for the development he's shown over the last few years. Originally signed out of the SHL in 2015, Kukan was a relative unknown that had gone undrafted but had impressed at two World Championships with Switzerland. He made his NHL debut that season, but spent all of last year with the Cleveland Monsters in the AHL.
Playing in 10 NHL games this season, Kukan seems destined to replace one of the Blue Jackets' pending free agents in the lineup on a more regular basis next year. Ian Cole, Jack Johnson and Taylor Chorney are all scheduled to become unrestricted free agents, while Ryan Murray and Markus Nutivaara are also RFAs.
Kukan is a solid defender that can be relied upon in the defensive zone and get the puck up quickly to his teammates, though perhaps lacks a bit of creativity and aggressiveness on the offensive side. With players like Zach Werenski and Seth Jones giving the Blue Jackets more than enough offense from the back end, Kukan can focus on the defensive side and carve out a role for himself.
The Blue Jackets have quite a bit of cap space heading into the summer, and getting players like Kukan locked in on relatively inexpensive deals will help them maximize that financial asset. He'll cost just a touch more than the minimum salary for next season, just like Scott Harrington who is signed for just $650K.