Buffalo fans rejoice. Casey Mittelstadt has decided to turn pro and sign his three-year entry-level contract with the Buffalo Sabres. He'll report immediately to the NHL team, and according to CapFriendly will burn the first season of the deal despite being just 19. That's because of a clause in the CBA making his contract ineligible to slide as he turns 20 between September 16 and December 31 of the year it was signed.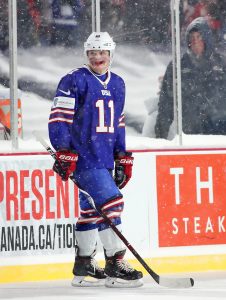 Arguably the top prospect in the entire league, Mittelstadt has gone from eighth-overall pick to potential franchise-changing talent in the span of less than a year. One of his biggest critiques going into the draft last summer was the fact that he spent much of the 2016-17 season playing at the high school level, one that is generally regarded as lower competition than the elite junior leagues of his contemporaries. His fitness was questioned at the combine, while some questioned whether he'd be able to survive at center in the NHL. All that went out the window as soon as Mittelstadt joined the University of Minnesota, where he starred immediately and was nominated for the Hobey Baker award as a freshman.
Playing for Team USA at the World Juniors, Mittelstadt was the most dangerous player on the ice and took home tournament MVP after an 11-point performance. He would take home a bronze medal, but once again showed he could dominate whoever he came up against. He'll face the toughest challenge of his life as he jumps right to the NHL, but will likely be surrounded by Buffalo's most talented players.
Mittelstadt is a natural playmaker who loves to hold the puck on his stick just an extra second to open up room for teammates. Though it is still to be seen whether the NHL will afford him the time to make those plays, Buffalo is getting an extremely talented player to fit in alongside the Jack Eichel-led rebuild.
The Sabres are currently sitting in last place in the entire NHL and have the best odds at securing Rasmus Dahlin in June, which, along with Mittelstadt's early exit from Minnesota, could push the team to new heights in 2018-19. Though there is more work to be done this summer to address the defensive group and goaltending situation, Buffalo looks more poised than ever to climb out of the basement and fight for a playoff spot.