With the trade deadline approaching, we will be profiling several players in the weeks ahead that have a good chance to be dealt by February 26th.
Although he has a reputation of being a streaky scorer, Canadiens winger Max Pacioretty has been one of the more prominent goal scorers around the NHL over the past several years.  With Montreal floundering in the standings, his name has been floated out in trade talks and as a result, he is one of the top players available heading into the deadline.
Contract
Pacioretty is in the fifth season of a six-year, $27MM contract.  He is earning a salary of $5MM both this season and next and will be an unrestricted free agent in the summer of 2019.
2017-18
As is the case with a lot of Montreal's players, this season hasn't gone to plan for Pacioretty.  He has had his usual hot stretches but his slumps have lasted longer than normal and as a result, he has yet to hit the 20-goal mark which puts his streak of four straight years with at least 30 tallies in serious jeopardy.
However, for teams interested in acquiring him, there is some cause for optimism.  His shooting percentage of 8.1% is his lowest since becoming a full-time NHL player back in 2010-11.  He also has been in a situation where his center has primarily been a winger playing out of position which certainly hasn't helped.  A move to a team with quality options down the middle would likely result in him getting closer to his career numbers.
Season Stats
56 GP, 16 goals, 17 assists, 33 points, -12 rating, 22 PIMS, 198 shots, 19:10 ATOI, 53.5 CF%
Potential Suitors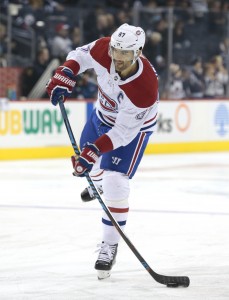 Most contending teams with some cap room will have interest in Pacioretty and it's possible that non-playoff teams may kick the tires knowing that he's signed for one more year (that might be more of an offseason inquiry, however).
In the East, Tampa Bay is likely to make a splash at some point and adding a top winger would make a potent offense that much stronger.  The two teams have already made a significant swap recently as well with the Jonathan Drouin–Mikhail Sergachev deal back in the summer.  Garth Snow is on record saying he doesn't want to move picks and prospects for rental players but with Pacioretty being signed for one more year, there could certainly be a fit with the Islanders.  The Blue Jackets need scoring help and have more than enough room to fit him in on the salary cap this season.
Out West, Nashville has solidified their depth down the middle and can turn their focus to the wing where Pacioretty would slot in well inside their top six.  Los Angeles has shored up their back end with the Dion Phaneuf acquisition and will now turn their focus up front.  However, GM Rob Blake may be hesitant to part with the top pick and/or prospect considering they're a team on the bubble for the postseason.  Meanwhile, San Jose is going to be on the lookout for help in their top six with Joe Thornton out and they are well-positioned both this season and beyond for the salary cap; they can add Pacioretty's deal without any difficulty.
Likelihood Of A Trade
Does Pacioretty have more trade value now where the acquiring team can have him for two playoff runs or in the offseason when more teams have cap space to work with and the Canadiens could be open to retaining on the contract?  The answer to this question may play a role in what happens here.  GM Marc Bergevin has set a steep asking price and with other scoring wingers on the market, he may have a hard time landing it unless several of them get moved in the coming days or someone decides Pacioretty is worth paying a premium for.  As a result, the summer appears to be the likelier time for a trade to take place.
Photo courtesy of USA Today Sports Images.