The San Jose Sharks have acquired Evander Kane from the Buffalo Sabres, according to Bob McKenzie of TSN in exchange for a conditional 2019 first-round pick, conditional 2020 fourth-round pick and Daniel O'Regan. Kane has not signed an extension with the Sharks, and is still scheduled to become an unrestricted free agent this summer. Mike Harrington of the Buffalo News reports that the bidding was down to San Jose, Anaheim and Calgary today.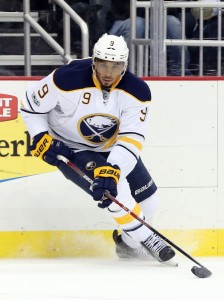 The first-round pick is tied to the re-signing of Kane. As Pierre LeBrun of The Athletic reports, if the Sharks don't re-sign the 26-year old forward before July 1st, it becomes a second-round pick in 2019 instead—unless the Sharks also win the 2018 Stanley Cup. It's unclear what the conditions are on the fourth-round pick.
O'Regan, 24, is a former teammate of Sabres' forwards Jack Eichel and Evan Rodrigues at Boston University and has played 19 games for the Sharks this season. Though he has just four points on the season, O'Regan does have some offensive upside and could jump right into the Buffalo lineup. He has 25 points in 31 games in the AHL, and though he's a bit undersized could give them another option down the middle for the next few years. He's a restricted free agent in the summer, but should be relatively cheap to sign for the Sabres.
The package Buffalo received for Kane may seem a little light at first glance, especially when compared directly to Rick Nash from this week. That's likely because of the struggles he's gone through of late, and his lack of playoff experience. Kane has just six points in 23 games in 2018, and hasn't played a single postseason game in his nine-year career.
There is also obviously the case of Kane's perceived attitude, which could have influenced the market that Buffalo was able to create. Kane has had off-ice trouble in the past, and though there hasn't been much lately on any turmoil in the Buffalo dressing room, playoff teams often don't want to risk their team chemistry on a player with a reputation. San Jose does have a strong leadership group, and decided that this package was more than acceptable for a player capable of scoring 30 goals in a season.
Photo courtesy of USA Today Sports Images