Although the trades have yet to pick up in frequency despite the trade deadline coming quickly, there was still plenty of news around the hockey world.  Here are the top five stores from the past week.
1) Kovalchuk To Test NHL Market: Here we go again.  Ilya Kovalchuk is intending to test the NHL free agent market this summer.  This was the case last year as well but there is one notable difference.  Kovalchuk will soon turn 35 which means that the Devils will no longer hold his rights and teams won't be required to trade for his rights to try to sign him.  The winger is once again dominating the KHL as he leads the league in scoring with 63 points (32-32-63) in 53 games.  There's no guarantee he signs this time around but he will be an interesting addition to the free agent market nonetheless.
2) Rangers Letter To Fans: There has been plenty of speculation in recent weeks regarding whether or not the Rangers would be buyers or sellers at the trade deadline.  The team put an end to that themselves, issuing a letter to their fans where they acknowledged that they will be looking to get younger and will be moving out some veterans.  That would indicate that their pending unrestricted free agents will be on the move at the very least and it will be interesting to see if players like Mats Zuccarello and Ryan McDonagh will follow suit or if decisions on them will wait until the summer instead.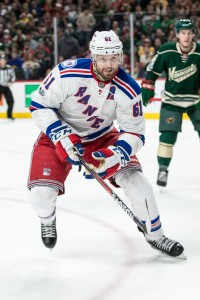 3) High Price For Nash: Speaking of pending unrestricted free agents on the Rangers, winger Rick Nash submitted his 18-team no-trade list although he acknowledged he may be willing to go to some of the teams on that list.  For the dozen teams that weren't on it, they will need to be prepared to pay a particularly high asking price.  GM Jeff Gorton is currently asking for a return comparable to what Buffalo is seeking for winger Evander Kane, a first-round draft pick, a top prospect, plus a lesser draft choice or prospect.  Presumably, New York will be willing to retain a significant portion of Nash's $7.8MM cap hit (they can retain up to 50%) in order to help facilitate a trade.
4) Five Years For Eller: The Capitals locked up one of their pending unrestricted free agents by signing center Lars Eller to a five-year, $17.5MM contract extension.  The $3.5MM AAV matches what he is receiving on his current contract.  Eller is in his second season with the Caps as their third line pivot and is on pace for a career year in points as he sits just two points behind his career-best 30 with two months remaining in the season.  They still have a prominent UFA to deal with in defenseman John Carlson who is in line for a significant raise on his current deal that carries a cap hit just shy of $4MM.
5) Burrows Gets Ten: Senators winger Alex Burrows was handed a ten-game suspension by the league for his kneeing of Devils winger Taylor Hall (who, fortunately, was not injured on the play).  This was the longest suspension handed down by the Department of Player Safety this season and Burrows will forfeit over $125K in salary.  He also elected not to appeal and will be out of Ottawa's lineup until March 2nd.
Photo courtesy of USA Today Sports Images.