With the trade deadline now less than a week away, we continue our closer look at the situation for each team.  Where do they stand, what do they need to do, and what assets do they have to fill those needs?  Next up is a look at the San Jose Sharks.
After losing Patrick Marleau to Toronto in free agency, many have been waiting for the Sharks to make some kind of move to replace him.  It didn't happen on the open market nor has it happened during the season as they have opted to try some of their younger players in Marleau's old spot instead.  With San Jose in a tight battle for a playoff spot, will this be the time that they make a splash?
Record
32-19-8, second in Pacific Division
Deadline Status
Buyer
Deadline Cap Space
$24.4MM full-season cap hit, 0/3 retained salary transactions, 46/50 contracts per CapFriendly
Draft Picks
2018: SJ 1st, SJ 4th, SJ 5th, SJ 6th, SJ 7th
2019: SJ 1st, SJ 2nd, SJ 3rd, SJ 4th, SJ 5th, SJ 6th, SJ 7th
Trade Chips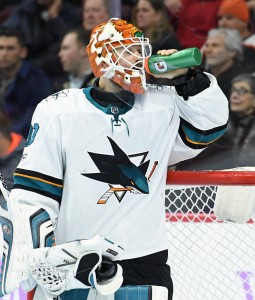 Goaltender Aaron Dell has long been suggested as San Jose's best card to play in a trade.  He's having a strong season (2.51 GAA, .917 SV% in 24 appearances) and with unrestricted free agency on the horizon, the belief is that they won't want to pay him the type of money he should be able to get on the open market.  However, San Jose's depth between the pipes behind Dell isn't the strongest so moving him would be quite a risk if Martin Jones was to get injured down the stretch.  Accordingly, any deal involving Dell would have to have a goalie coming back (or they would at least have to have a follow-up swap in place to replace him).
While most buying teams would be shopping draft picks and prospects, GM Doug Wilson has already stated that he has no intention of moving those top assets for rentals.  As a result, they may be more inclined to deal from the outskirts of their roster to try to tweak things, especially since they're already down two of their top three picks for this season.  Defenseman Paul Martin had been in the AHL until earlier today and is an option to be moved depending on San Jose's willingness to take a similarly high-priced contract in return or how much of his deal they're willing to retain on.
Five Players To Watch For: G Aaron Dell, D Dylan DeMelo, RW Jannik Hansen, D Paul Martin, RW Joel Ward
Team Needs
1) Center Depth: The injury to Joe Thornton has forced them to shift Logan Couture back to the middle and he is better served as a winger.  While the Sharks are optimistic that Thornton will be back in time for the postseason, that doesn't appear to be a guarantee at this point.  The challenge here will be the lack of trade bait to land a top-six replacement so Wilson may be forced to look for a third-line option instead to at least shore up the depth.  They were linked to Montreal's Tomas Plekanec earlier this month and while he is more of a checker than a scorer at this point in his career, he can still log a heavier workload than most bottom-six players.
2) Top-Six Winger: The fact that Marleau was never really replaced comes into play here, as does the fact that Couture has had to be shifted down the middle.  The Sharks have given youngsters Timo Meier and Kevin Labanc chances in the top six and, as expected, the results have been mixed.  Mikkel Boedker and Joonas Donskoi are better suited as third liners which means there still is a hole to be filled on one of their top two lines.  If they're willing to take on contracts beyond this season, they could be a team to watch for in the non-rental market as there are several wingers available that could fill this void.
Photo courtesy of USA Today Sports Images.