With the trade deadline fast approaching, we will be taking a closer look at the situation for each team. Where do they stand, what do they need to do, and what assets do they have to fill those needs? Next up is a look at the New York Rangers.
The New York Rangers still sit just a few points out of a playoff spot in the Eastern Conference, but have made it clear to fans that they're ready to build towards the future. Changes are coming, and they could extremely alter the composition of the team for the remainder of the season. Everyone seems available in New York, including most of the leadership group.
Record
27-24-5, eighth in Metropolitan Division
Deadline Status
Seller
Deadline Cap Space
$3.63MM full-season cap hit, 0/3 retained salary transactions, 48/50 contracts per CapFriendly
Draft Picks
2018: NYR 1st, NYR 2nd, NYR 3rd, NYR 4th, NYR 5th, NYR 6th
2019: NYR 1st, NYR 2nd, NYR 3rd, NYR 4th, NYR 5th, NYR 6th, NYR 7th
Trade Chips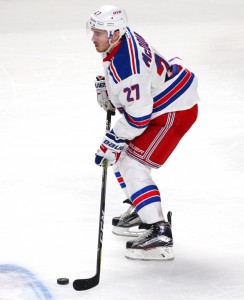 The Rangers are selling off everything that's not tied down, and that starts first and foremost with Rick Nash and Michael Grabner. Both forwards are unrestricted free agents at the end of the year, and should bring back a pretty penny for New York at the deadline. Nash is reportedly being pursued by the Nashville Predators and Dallas Stars among others, while Grabner's low cap hit could make him a target for virtually any playoff contender.
Beyond that, Mats Zuccarello, Kevin Hayes and J.T. Miller will all bring their fair number of interested parties, while Ryan McDonagh could be the best defenseman available in the next two weeks. The Rangers captain has one year left on his deal after this season, and can legitimately be pushed into a top pairing without issue.
Trading rentals is one thing, but there could be an appetite from the Rangers front office to wait on any potential McDonagh deal until the summer when almost all the teams in the league could show interest. If he isn't traded in the next two weeks, he'll be a player to keep an eye on in June as we head towards the draft.
Five Players To Watch For: F Rick Nash, F Michael Grabner, D Nick Holden, F David Desharnais, D Ryan McDonagh
Team Needs
1) Draft Picks: For four straight years between 2013-2016, the Rangers table waited patiently while the first round of the NHL draft took place. In two of those years they didn't make a pick until the third round, and it has shown in their prospect development. Last year, all that turned around when they kept their own pick and traded Derek Stepan and Antti Raanta for the seventh-overall selection. Now, they'll look to select another few times in the first 60 picks if they can, and really kick-start the rebuild. All of the trades will likely include some kind of draft capital, as the Rangers aren't looking for a quick flip to contention next season but a real rebuild.
2) Quickness: Second, the team has made it clear that they want to get fast. As the NHL moves further and further away from lumbering, physical players and towards smaller, skilled talents, the Rangers believe they can find success with a faster lineup. It's not that they don't already have some speed in their group, but mobility will be at the top of the list in any young talent acquired, both on offense and defense.
Photo courtesy of USA Today Sports Images