The Washington Capitals have surprised a lot of people this season. After getting bounced out of the playoffs by the Pittsburgh Penguins once again, many looked at a roster which was losing the likes of Karl Alzner, Justin Williams, Kevin Shattenkirk, Nate Schmidt and others, and thought they'd take a drastic step backwards in 2017-18. Instead, led by a resurgent Alex Ovechkin the team has 63 points in the standings and leads the Metropolitan Division once again.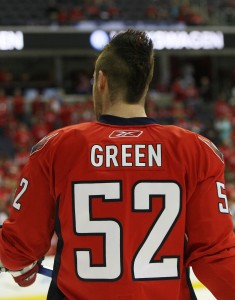 Now as the trade deadline looms, many are trying to find ways in which the roster may be supported. The Capitals are buyers once again, knowing that the longer they go without a Stanley Cup appearance for Ovechkin, the less likely he'll ever get one.
In a specific example, a return home for Mike Green of the Detroit Red Wings has been written about extensively over the past few days after the defenseman took part in the All-Star festivities on the weekend. There's no doubt that the puck-moving defender would be a nice fit for the Capitals, but he comes with a large, snarling caveat.
The Capitals don't have any money.
Not in terms of actual dollars available to give out, the Capitals are among the most financially stable teams in the league and could certainly afford to pay Green what's remaining on the final year of current contract. But the league wouldn't allow it, as Washington is already carrying a heft cap hit.
Smartly, in preparation for the trade deadline the Capitals have been trying to bank cap space all season. Madison Bowey and Jakub Vrana have each been sent down at least six times, usually just for a single day to spare their cap charge between games. The team, which started the season with very little room to operate, now has a little flexibility for the trade deadline. Just not nearly enough for Green.
The Red Wings defenseman comes with a $6MM cap hit, three times more than the projected salary the Capitals could take on at the deadline. They'd need to clear some real salary to bring someone like him on board, and there aren't many obvious options to get rid of.
Lars Eller could be one, but he's been a key part of their forward group since coming over from Montreal in 2016. He's even on pace to set a new career-high in points as he heads towards unrestricted free agency. Moving his $3.5MM cap hit would certainly give them some extra room, but would blow a hole wide open in their center depth and force Jay Beagle or someone even less experienced into tough minutes.
There's Brooks Orpik, the much maligned defensive defenseman who was a buyout candidate last summer. His $5.5MM cap hit for this season and next is likely almost immovable, even if he is still logging more than 20 minutes a night. That role is another reason why it would be tough to part with him, especially just to bring in another defenseman. The Capitals are trying to get deeper, not just replace spare parts.
Of course in any deal, Green included, the trading team could retain salary. Up to 50% of the remaining contract, that might have to be case for any acquisition the Capitals make. Whether it is a big name like Green, or even just a minor tweak, Washington is in a weak negotiating position. After sending several assets for Shattenkirk last season, will they really sacrifice more of the future to get a half-priced rental at the deadline?
All cap numbers provided by CapFriendly.