Hockey Canada released a list of 32 players invited to the World Junior selection camp this month, as they prepare for the tournament in Buffalo. As we wrote when the list was released, it is possible for several other NHL players could be allowed to join the tournament as well should their clubs release them. Alexander Nylander, for instance, still doesn't have an answer from the Buffalo Sabres on whether he'd be allowed to leave the Rochester Americans to play for Sweden.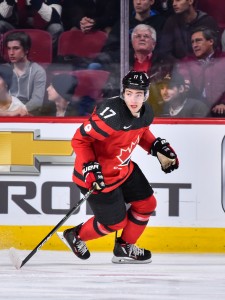 Tyson Jost of the Colorado Avalanche is that player for Canada, and as Adrian Dater of BSN Denver reports it's likely that he'll be allowed to leave the team to play in the tournament. Jost's development has been handled very carefully this season, with him spending time in the AHL to receive more minutes and work on his two-way game.
How can he play in the AHL and still be eligible for the World Juniors you ask?
Jost played in the BCHL before being drafted and heading to the University of North Dakota, meaning he's not held to the same restrictions as CHL players. Remember, those drafted out of the CHL cannot play in the AHL until they turn 20. Jost is just 19 still, and would be a huge help to the Canadian team.
The 10th-overall pick in 2016, Jost has top-line upside as an all-around center and was part of the 2017 Canadian team that took home the silver medal. Even though the team already has plenty of talent to pick from, getting another returnee—especially one that has captained Canada on the international stage in the past—would increase their chances even more.