One of the worst things imaginable for Winnipeg Jets fans has happened, as Mark Scheifele will be out six to eight weeks with an upper-body injury. Scheifele suffered the injury last night when he crashed hard into the boards against the Edmonton Oilers and had to leave the game. He's been placed on injured reserve already.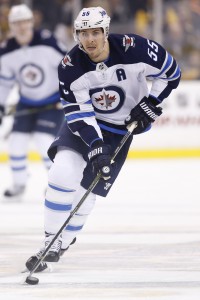 With the Jets success this season Scheifele has started to shed his extremely underrated reputation and get some league-wide recognition as one of the very best centers in the league. With 38 points in 38 games he is a huge part of the Jets offensive attack, and plays nearly 21 minutes a night for the club. In his absence the Jets will at least temporarily move Blake Wheeler to the middle, but that's taking their captain away from his best position and the place where he's racked up 42 points this season.
The Jets do have depth down the middle, with Adam Lowry, Bryan Little and Mathieu Perreault all capable players that can move up and down a lineup. But without Scheifele, the team's claim to the top of the Central Division might be hard to make. They currently sit just one point behind the Nashville Predators and two points out of the top seed in the Western Conference, but will have to find some new offensive contributors for the next two months.
One player who could see some additional time is Joel Armia, who scored two goals last night and has yet to really show the powerful presence that made him the 16th-overall selection in 2011. Easily on pace to set a career-high in points and goals already this season, he's earned himself more ice time of late and is putting up the best possession numbers of his career. As always, one player's injury is another's opportunity—perhaps Armia can take advantage.
Photo courtesy of USA Today Sports Images