Like Alexei Bereglazov earlier this month, another KHL player could return to Russia if not called up soon. According to TSN's Insider Trading Nikita Soshnikov of the Toronto Maple Leafs has a clause in his deal which would allow him to return to the KHL should he not be called up by November 14th. As Pierre Lebrun of The Athletic points out, he also is just three games away from becoming waiver-eligible.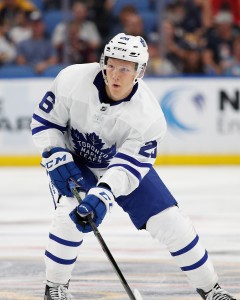 For what it's worth, Soshnikov's agent apparently says the forward wants to stay in the NHL and since he's regularly been the AHL Marlies' best player this season one would believe the Maple Leafs would do everything they could to keep him in North America. The problem though, is where to fit him onto the roster.
The Maple Leafs called up Frederik Gauthier today to replace Kasperi Kapanen because of the minor injury to Auston Matthews, giving them some center help should their star have to sit out a day. Beyond that roster spot, there isn't much room in Toronto. Josh Leivo, another talented winger hasn't been able to crack the Maple Leafs lineup for any length of time and is waiver-eligible himself. He'd almost certainly be claimed if the team tried to send him to the minor leagues.
You wouldn't want the 24-year old Soshnikov just sitting around with the NHL club for very long, so perhaps his clause would expedite another move by Toronto. They do have three forwards on expiring contracts in James van Riemsdyk, Tyler Bozak and Leo Komarov, and likely don't have room for more than one of them past this season. The team has young players to pay, and the trio of veterans are probably a little too pricey to keep around. The team obviously has their eye on a postseason run, but moving one of their pending unrestricted free agents for defensive help, only to replace them with NHL-ready Soshnikov or Kapanen could be a prudent course of action.
Photo courtesy of USA Today Sports Images