Darren Dreger took to the airwaves for WGR 550 in Buffalo for his weekly appearance, and the conversation inevitably turned to Evander Kane. With the trade of Matt Duchene, Kane has jumped to the top of the rumor mill all over again. Dreger reports that last he checked there hasn't been work on a contract extension between Kane and the Sabres, but that he wouldn't rule out one being completed before he becomes a free agent this summer. Still, in a frank account of where his market would land should he get to unrestricted free agency, Dreger puts a cap on how long Kane would be signed for.
I'm not saying that there isn't going to be another team that is going to give Evander Kane seven years. But if there is, I haven't come across that team yet. I haven't come across it.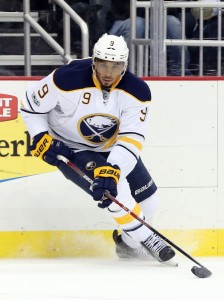 Dreger immediately goes on to admit how well Kane has played this year and that if that play continues all year the skepticism from around the league will disappear.
Heading into the winter months, Kane looks like a lock to be one of the most sought-after free agents in the summer of 2018, despite whatever off-ice baggage he's had in the past. The simple fact of being a 26-year old free agent is a huge positive for his case, not to mention his 30-goal ability. Kane had 28 last season in just 70 games, and he's currently on a 49-goal pace for this season. While that's likely not what he'll end up with, it's clear that he's one of the most dynamic goal scoring wingers in the league.
With all respect given to Dreger, without a major injury or another off-ice incident it seems impossible that Kane wouldn't be able to secure a seven-year deal. He'd be just 33 when the contract expired, and there are always teams after goal-scoring up front. While seven years is not even necessarily what Kane is looking for, he'll be one of the most interesting players to watch come July 1.
Because of that interest, the idea of a trade is going to linger. If Buffalo doesn't turn things around from their early season struggles—and with the current state of their defense it will be difficult—the Sabres will likely be sellers again at this year's deadline. With their superstar center locked up long-term for huge dollars, the team has to continue to collect young players to surround him. Eichel will jump to $10MM per season next year, and with big contracts already given out to Ryan O'Reilly and Kyle Okposo there may not even be room to re-sign Kane, let alone interest from both sides. As every team is learning, you must find success while at least some key players are still on their entry-level contracts in the salary-capped NHL, not after they all hit unrestricted free agency.
Just like interest on the open market, Kane would bring in a solid return if the Sabres were to shop him. While he's obviously not quite Duchene, if the Sabres were to net even just one blue-chip defense prospect (as opposed to three prospects and three picks) it would be hard to turn down. Again, that's predicated on the idea that Buffalo doesn't turn it around and Kane looks like he's going to re-sign for a reasonable amount, but both things are starting to fade further into the distance as the season progresses.
Photo courtesy of USA Today Sports Images