The Vegas Golden Knights have gotten into the waiver action today, as according to Bob McKenzie of TSN, the team has claimed goaltender Malcolm Subban from the Boston Bruins. Subban was placed on waivers yesterday when the team decided to keep Anton Khudobin as their backup.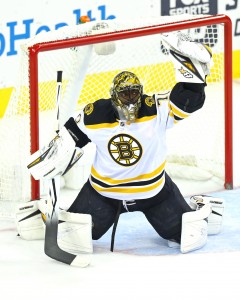 Subban was an extremely divisive player among fans in Boston since being selected in the first round five years ago. Though he continues to show all the ability in the world and potential to be a top-flight goaltender in the NHL, his game has been marred by inconsistency since turning professional. Though he's posted strong numbers throughout his AHL career, he's prone to give up back-breaking goals at the most inopportune times and has struggled in his two chances at the NHL level.
While all of that is true, Subban is only 23 years old and could still develop into a legitimate NHL player. His reflexes, size and athleticism are all still above average, and if the Golden Knights can find a way to harness all of those things, they could have a potential goalie of the future. Still, they have challenges to deal with right now. The team will have to keep three goaltenders on the roster for the time being, as Marc-Andre Fleury and Calvin Pickard are not going anywhere unless through trade. That would leave Subban as a scratch most nights, which isn't likely the best thing for his development.
That fact will lead to much speculation about a Vegas roster that already seems destined for a trade. They didn't place anyone on waivers today, and now have 26 players on their roster. While Shea Theodore and Vadim Shipachyov are waiver-exempt, it's unlikely either of them are being cut from the final roster. That means either some of their players are being put onto injured reserve, or a trade is in the works to get them down to 23 by today's deadline.
Photo courtesy of USA Today Sports Images