The Boston Bruins will be without another veteran forward for quite some time, as the team announced today that Ryan Spooner will be out for four to six weeks with a right groin adductor tear. The team already called up Kenny Agostino and Peter Cehlarik earlier today, and David Backes and Patrice Bergeron are on the cusp of returning to the lineup.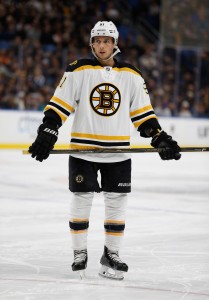 Still, losing a player like Spooner for this long is never a good thing. Groin injuries are notorious for lingering, and the 25-year old was already struggling to make an impact in the early going. He's been the subject of much ire from Bruins fans for the past few seasons, who see an extremely talented offensive player who has trouble performing on a consistent basis. Losing a chunk of the season early on will do nothing to assuage that frustration.
The Bruins, already relying on several rookies in their lineup, will have plenty of opportunity for young players to make an impact. Spooner's best role was on the powerplay, where the team will likely have to get creative in the face of his injury. Agostino is obviously a potential piece for the man advantage, as his offensive ability has shown in the minor leagues.
In a year that was supposed to be a launch pad for a long-term contract, Spooner now will miss at least a dozen games and likely come back with a bit of rust. With just one point in his first five, this could turn into a disastrous negotiation point for the Bruins in arbitration next summer. The forward is earning $2.83MM this season, and is set to become an unrestricted free agent in the summer of 2019.
Photo courtesy of USA Today Sports Images