The Pittsburgh Penguins have finally given up on Derrick Pouliot, trading the first-round defenseman to the Vancouver Canucks for Andrey Pedan and a fourth-round pick. Pouliot is no longer waiver-exempt, and did not earn a role with the Penguins this fall. Pedan on the other hand cleared waivers today and can immediately be sent to the minor leagues if the team so chooses.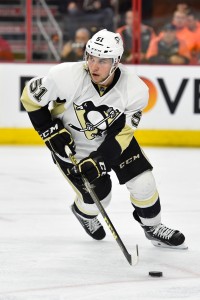 Pouliot has had a long and disappointing tenure with the Penguins since they drafted him eighth overall in 2012. The 23-year old defenseman has struggled to even crack the lineup, and whenever given a chance hasn't been able to stay in the NHL. In the minor leagues his offensive upside shines through, but the Penguins time and again haven't been able to live with his lack of defensive consistency.
He'll get a new start with the Canucks, who are taking a flier on a player who was once considered a blue-chip prospect. When he was selected out of the WHL, Pouliot was compared to Brian Campbell because of his skill with the puck and elite playmaking ability. It's what made him the first-overall pick in the WHL Bantam draft, and what helped him rack up points with the Portland Winterhawks (where Canucks' coach Travis Green was behind the bench) and Canada's World Junior team. That skill remains, and he'll be given a chance right away to show it off with Vancouver.
While he may never reach his full potential, the Canucks are hoping that he'll have a bigger impact than Pedan. Though Pedan is blessed with size and strength, he has barely seen the NHL since being drafted in the third round six years ago, and doesn't project out to be a full-time defender at the highest level. He does have some upside as a depth player, but isn't expected to ever reclaim the scoring touch he showed for the Guelph Storm.
In all, the Penguins cut their losses and gain an asset for a player they were likely to lose at some point for nothing, while the Canucks take a home run cut without risking very much. The rebuilding Vancouver club will likely take more of these chances over the next year or two, as it tries to build a core around Bo Horvat, Brock Boeser and their other young players.
Photo courtesy of USA Today Sports Images