Sportsnet's Mark Spector reports that while the Edmonton Oilers continue to look for an answer this season, "at least one team" is showing interest in defenseman Matt Benning in trade talks—though there is certainly no hurry to move him. Spector writes that the team likely would however be willing to give up Anton Slepyshev or Ryan Strome in potential deals.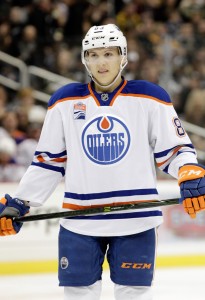 Edmonton is off to a terrible start for a club that was expected to contend for the Stanley Cup this season, riding a 3-6-1 record into Wednesday's matchup with the Pittsburgh Penguins. Connor McDavid clearly can't carry the team all on his own, and they've received little offensive help beyond the top line. Slepyshev has been held scoreless thus far, while Strome has just three points on the season. That's while Jordan Eberle starts to thrive in New York with nine points through 11 games.
The Oilers need help, and they need it soon if they're going to turn around this ship. The team ranks dead last in the NHL in goals for, and both special teams rank in the bottom three. Spector does suggest that Chris Kelly will sign if Kailer Yamamoto is sent back to junior, which should help their penalty kill but do little for their offensive woes. The answer to those isn't quite so simple.
Moving Benning would certainly bring back something of value, as the 23-year old defenseman has shown at least an ability to play a full-time role in the NHL. Though he doesn't have a ton of offensive upside, some might see him as a solid answer to shore up a bottom pairing. Dealing him would mean opening one hole to fill another however, as the Oilers would need a replacement for his 16-odd minutes a night. Benning is a restricted free agent this summer though, and with money locked up in four defensemen already and a new deal looming for Darnell Nurse, he could be on the outside looking in anyway. The Oilers will obviously have to be very careful with their cap space once McDavid's league-leading contract extension kicks in.
Photo courtesy of USA Today Sports Images