We heard recently that the Senators and center Kyle Turris were making "healthy progress" on a contract extension. However, one pundit believes these talks will ultimately lead to a trade. TSN's Darren Dreger said earlier tonight that he could envision the organization parting ways with the impending free agent.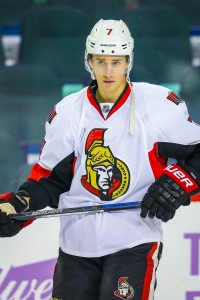 "I think it's headed to trade," he said (via TSN.ca). "Trade seems likely. I'm not suggesting it's imminent, it's going to happen this week, next month. But before the February 26th trade deadline? Yes, and the simple reason is there has been a fair bit of dialogue between Senators management and the agent who represents Kyle Turris, dating back to early July or late June. Kyle Turris wants to commit long-term to the Ottawa Senators. We're talking about a seven, eight-year term. So far, the Sens haven't been willing to do that. So they cannot allow an important piece like Kyle Turris to walk out as an unrestricted free agent."
For what it's worth, NHL Network's E.J. Hradek agreed with the sentiment (via Twitter), noting that "decision time" is coming in Ottawa. Meanwhile, TSN's Bob McKenzie said he'd be surprised if the team ultimately signed Turris to a new deal.
After having recently inked starting goalie Craig Anderson to a new contract, the Senators had reportedly shifted their focus to Turris. The former third-overall pick is entering the final season of his contract, and he'll earn an affordable $4MM in 2017. However, reports last week indicated that the 28-year-old was seeking a considerable pay raise at around $6MM annually over seven or eight years. As our own Zach Leach noted earlier this week, he'll be competing with a number of notable free agent forwards for a hefty contract, and it might be best for both sides to work out an extension. However, if an agreement can't be made, it makes plenty of sense for the Senators to get some compensation for a player they could lose in free agency.
Turris didn't live up to expectations during his stint in Phoenix, but he's turned into a dependable scorer for the Senators. The alternate captain and top line center has collected at least 55 points in three of the past four seasons, including a 27-goal, 28-assist campaign in 2017.
Photo courtesy of USA Today Sports Images