The Detroit Red Wings have finally come to an agreement with forward Andreas Athanasiou on a one-year contract worth $1.39MM. The team is currently right at the cap, and will need to move salary of some sort out before officially signing the contract and putting Athanasiou on the roster. Whether that comes through trade, long-term injured reserve or waivers is still to be seen.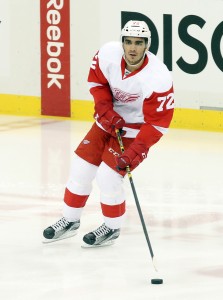 The final restricted free agent to sign this year, Athanasiou has been skating in Switzerland to stay in shape while the NHL season began. While the Red Wings had made one-year $1.25MM, and two-year $3.8MM offers there was still apparently in a divide in what Detroit, Athanasiou and agent Darren Ferris believed he was worth. After an 18-goal campaign, the speedster was poised to be given even more responsibility this season as an integral part of the offense.
Athanasiou was selected in the fourth round in 2012, but exploded offensively for the Barrie Colts before showing he could reproduce that skill at the professional level. In parts of three seasons with the Grand Rapids Griffins, Athanasiou scored 51 points in 83 games before making the jump to the NHL. His 43 points in 101 NHL contests don't jump off the page, but for a team like Detroit who is looking for youth and speed, Athanasiou was a shining star.
That shine was dulled a bit this summer when his holdout began, with many fans criticizing him for his decision to turn down several offers. Even as the latest restricted free agents started to sign, there was little word on why Athanasiou's deal couldn't get done. Last year we waited until early November on a Jacob Trouba holdout, before the Winnipeg Jets defenseman decided playing was the most important thing for his future. The 23-year old forward seems to have come to the same conclusion.
At $1.39MM, Athanasiou will slide in just below Luke Glendening in terms of salary on the Red Wings. While it is a relatively low number, the holdout could pay off next summer when heading to arbitration. Athanasiou will still be a a restricted free agent, but armed with the bigger cap number from this year. Interestingly, every day he remains unsigned he is losing out on a prorated portion of the contract. That will make the difference between the $1.25MM offer and what he eventually ends up with minimal in terms of actual salary paid, or even end up costing him some. The benefit will be felt down the road.
Elliotte Friedman of Sportsnet was first to report the deal, while Bob McKenzie of TSN gave us the exact financial info.
Photo courtesy of USA Today Sports Images