It's been clear for some time now that the coaching staff in Montreal—whether it be led by Michel Therrien or Claude Julien—are not fond of Alex Galchenyuk's all-around game. Galchenyuk has repeatedly been moved away from the center position he once was expected to hold, moved up and down the lineup seemingly at random. After the Candiens went out this summer and acquired Jonathan Drouin, trade speculation spiked around Galchenyuk as the team seemed to have moved on.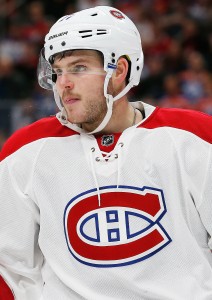 Still, they did reach a three-year deal that will pay Galchenyuk $4.9MM per season, and all seemed to settle for a while during training camp. Now though, Galchenyuk has been dropped to the fourth line as part of a shakeup by Julien following the team's early season struggles. The young forward doesn't seem thrown off by it, telling Matt Cudzinowski of NHL.com that he just wants to help the team.
We're just trying to get a win. You don't take things personally. You try to go out there and improve your game individually and as a team. My job is to go out there and make myself better and try and help the team win. That's what I'm focused on.
Whether he's complaining or not, it has still been a disappointing fall from grace to see Galchenyuk go from a burgeoning superstar in 2015-16, scoring 30 goals and 56 points to skating with Torrey Mitchell and Ales Hemsky as an afterthought in practice. While it's clear that Galchenyuk has the support of his teammates, his ice-time has dropped to under 15 minutes the past two games.
There will be much criticism in Montreal and across the NHL landscape for how Julien is handling his 23-year old sniper, but it doesn't come without fault from Galchenyuk himself. There are times he is caught drifting on back checks, and he can float to the perimeter at times in the offensive zone. Still, for a team that is struggling to score goals, reducing the playing time of one of your most dynamic forwards seems counter-productive. If Montreal is going to find success this season, a lot of it will have to come from an improved offensive game. A lot of that comes down to having a weapon other than Drouin and captain Max Pacioretty to roll out against teams. Galchenyuk is that weapon, if he—or the coaching staff—can find his trigger.
Photo courtesy of USA Today Sports Images