With the NHL season now just a couple of days away, we continue our look at what each team has done this summer and what to watch for in the year to come.  Today, we focus on the Columbus Blue Jackets.
Last Season: 50-24-8 record (108 points), third in Metropolitan Division (lost in the first round to the Pittsburgh Penguins)
Remaining Cap Space: $7.99MM per CapFriendly
Key Additions: F Artemi Panarin (trade, Chicago)
Key Departures: F Brandon Saad (trade, Chicago), F Scott Hartnell (buyout), F Sam Gagner (free agency, Vancouver), D Kyle Quincey (free agency, Minnesota), F William Karlsson (expansion, Vegas), F David Clarkson (trade, Vegas), F Keegan Kolesar (trade, Vegas), F Josh Anderson (unsigned RFA)
[Related: Blue Jackets Depth Chart From Roster Resource]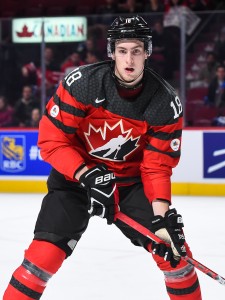 Player To Watch: F Pierre-Luc Dubois – When Columbus GM Jarmo Kekalainen strode towards the podium at the 2016 draft, holding the third-overall pick almost everyone in the building expected him to select Finnish forward Jesse Puljujarvi. Puljujarvi had been neck and neck with Patrik Laine for much of the year as the potential second-overall pick, and had only fallen to a close third in recent months. Despite the obvious talent in Puljujarvi, Kekalainen went after the more important position and selected Pierre-Luc Dubois, the second best center available in the draft (behind just Auston Matthews). That selection was surprising, and early indications may have had fans calling for their GM's head.
Dubois was sent back to junior and struggled mightily early for the Cape Breton Screaming Eagles, not even playing center full-time. It looked like it might be a disappointing season for a player who had such high hopes until a mid-season trade to Blainville-Boisbriand turned things around. Dubois would start showing his dominant physical presence once again, and recorded 59 points in 41 games down the stretch and into the playoffs. He was a more well-rounded player, and showed he could be ready for the jump sooner than initially thought.
That jump is about to happen as Dubois has survived all the Columbus cuts and is penciled into the lineup for opening night. Meanwhile, Puljujarvi had a disappointing camp and was sent back to the AHL to begin the year. While those two will be tied together for some time, it seems likely that Dubois will be given every chance to succeed this year with the Blue Jackets. While he'll begin the season as a winger, there is still a real chance he ends up in the middle at some point. If he could lock down that role, it would be a huge advantage for a club that has some of the best forward depth in the league.
Key Storyline: In 16 seasons since the Blue Jackets were added to the NHL, the franchise has won exactly three playoff contests. Last year marked just the third time the team had been to the postseason, and they have still yet to make it past the first round. That seems destined to change over the next few years, as the Blue Jackets proved last season that they were one of the premiere clubs in the league. With 108 points, they amazingly finished third in their division but should be pushing the Pittsburgh Penguins, Washington Capitals and New York Rangers once again for the top spot.
With a Hart Trophy-caliber goaltender, elite defense corps, the reigning coach of the year and a lineup featuring a solid mix of size, skill and speed there is no one they shouldn't be able to play with. Still, the playoff demons are there for this club and the structure could backfire once again. Even with their 100+ point season they were forced to face the Penguins in the first round, and could face a similar fate this year should they not be able to take down the top spot. While they can't look too far ahead, the playoffs are the real test for this team.