With the NHL season now underway, we continue our look at what each team has done this summer and what to watch for in the year to come.  Today, we focus on the Carolina Hurricanes.
Last Season: 36-31-15 record (87 points), seventh in Metropolitan Division (missed playoffs)
Remaining Cap Space: $14.57MM per CapFriendly
Key Additions: F Justin Williams (free agency, Washington), F Marcus Kruger (trade, Vegas), D Trevor van Riemsdyk (trade, Vegas), G Scott Darling (trade, Chicago)
Key Departures: F Jay McClement (free agency, unsigned), D Matt Tennyson (free agency, Buffalo), G Eddie Lack (trade, Calgary)
[Related: Hurricanes Depth Chart From Roster Resource]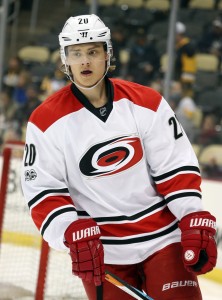 Player To Watch: F Sebastian Aho – The Carolina Hurricanes are heading into the season with several exciting rookies this season in Martin Necas, Haydn Fleury and Janne Kuokkanen. All three have impressed in training camp, but for all their youth and flash you shouldn't forget about last year's version.
Aho turned 20 years old just this summer and already has a season under his belt with 24 goals and 49 points. For all the ink that was spilled last year over Auston Matthews, Patrik Laine and other rookies, Aho quietly put together an outstanding season at age-19 in Carolina and could explode into super-stardom this year. Remember that this is a second-round pick who jumped right from the Finnish professional ranks to the NHL, and clearly still has room to grow.
The Hurricanes will have a fun, up tempo offense this year with speed on every line, but look no further than the top unit with Aho, Jordan Staal and Elias Lindholm as one of the best in the league. Each brings a different skill to the table, and should be able to dominate teams at even strength at both ends of the rink. When you think that Staal—who was recently named co-captain with Justin Faulk—is one of the elder statesmen on the team at 29, it starts to show just how much potential this squad still has.
Key Storyline: The Hurricanes are a sexy pick to make the playoffs this year. Everything written above would have you believe that they'll easily surpass their 87-point total from last year and glide into the postseason on a barrage of goals. That could happen, but it will still take a lot of work to overcome the daunting task that is the Metropolitan Division.
The reigning Stanley Cup Champions are standing in their way in Pittsburgh, as are three other 100-point teams from a year ago in New York, Washington and Columbus. New Jersey, Philadelphia and the other New York (sorry, Islanders' fans) aren't going to lay down, and the Atlantic looks improved and ready to compete for both wild card spots. The Hurricanes will need everything to go right for them to climb this mountain, and a lot of it starts in net.
When the Hurricanes won the Stanley Cup in 2006 it was on the back of a rookie goaltender who stole the job and earned himself the Conn Smythe trophy in the process. Now Carolina will hope another goaltender will steal Cam Ward's job and run with it. While Scott Darling isn't the 21-year old upstart Ward was in 2005-06, he's being given his first chance to earn a real starting position in the NHL and is ready to prove that he's more than just a backup.
Fighting his way up from the Southern Professional Hockey League, Darling has taken a step forward at every level and recorded an impressive .923 save percentage behind Corey Crawford in Chicago. If he can bring that same level to the Hurricanes every night, they'll be a team to be reckoned with. Luckily, Darling will have the experience of Ward to help him along the way, in what could be the veteran netminder's final season in Carolina.
Photo courtesy of USA Today Sports Images