With the NHL season now underway, we continue our look at what each team has done this summer and what to watch for in 2017-18.  Next up in our team-by-team primers is the Anaheim Ducks.
Last Season: 46-23-13 record (105 points), first in Pacific Division (lost in conference finals to Predators 2-4)
Remaining Cap Space: $393K per CapFriendly
Key Additions: D Francois Beauchemin (free agency, Colorado); G Ryan Miller (free agency, Vancouver); F Dennis Rasmussen (free agency, Chicago)
Key Departures: G Jonathan Bernier (free agency, Colorado); D Clayton Stoner (expansion pick, Vegas); D Shea Theodore (trade, Vegas); F Nate Thompson (free agency, Ottawa)
[Related: Ducks Depth Chart From Roster Resource]
Player To Watch: F Rickard Rakell – Rakell broke out for a 20-goal season in 2015-16 and followed that up with a 33-goal performance last year. Now with Ryan Kessler out for an unknown amount of time due to hip surgery, the 24-year-old forward will move to his natural position and center the team's second line until Kessler returns. Moving to center will require Rakell to create more of his own offense and feed his wings, which the team believes he is ready for.
Many feel that Rakell may become the focal point of the offense in the future once Ryan Getzlaf and Corey Perry retire, but the young scorer's job now is to successfully convert to that center position. If not, Anaheim will likely struggle until Kessler returns, which could be as late as Christmas. However, considering the year-to-year improvement of the young forward, there is a good chance he should successfully convert to that position. Once Kessler does return, however, Rakell could easily move to the team's top line as their top wing.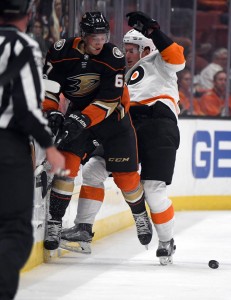 Key Storyline: If the Ducks didn't already have enough to worry about with the Edmonton Oilers breathing down their necks in the Pacific, injuries could likely get them off to a slow start, which they must overcome. To go with Kessler, the team is short on two of their top defensemen in Hampus Lindholm and Sami Vatanen, who are both out after they each had shoulder surgery last season. Ryan Getzlaf has also missed some time, but could be returning soon.
Those injuries, especially on defense must be overcome. The team's defense stepped up in the playoffs with the play of several youngsters, including Josh Manson, Brandon Montour and Theodore. Unfortunately, the team traded away Theodore to Vegas to avoid losing even bigger-named players, so they must survive on the experience of the others to fill in while they wait for the other defenders to get back. Manson, who was just awarded with a new four-year, $16.4MM contract, could be a breakout candidate for the team, while the team believes Montour is ready for a full season after playing 27 games for the team last year.