Navigating the Salary Cap is probably one of the more important tasks for any general manager to have. Teams that can avert total cap chaos by walking the tightrope of inking players to deals that match their value (or compensate for future value without breaking the bank) remain successful. Those that don't see struggles and front office changes.
PHR will look at every NHL team and give a thorough look at their cap situation heading into the 2017-18 season. This will focus more on those players who are integral parts of the roster versus those who may find themselves shuttling between the AHL and NHL. All cap figures are courtesy of CapFriendly.
Current Cap Hit: $71,684,167 (under the $75MM Upper Limit)
Entry-Level Contracts
F Ondrej Kase (One year remaining, $670K)
D Brandon Montour (One year remaining, $925K)
F Nick Ritchie (One year remaining, $894K)
Ritchie had a nice first full season that saw him collect 28 points while playing 13 minutes per game.  If he maintains that, he'll position himself for a decent raise but if he can push closer to 40 points and take on a bigger role, he could push closer towards $3MM on a bridge contract.  Kase took on a fourth line role and will probably battle for that spot in the lineup again.  He'll be in line for a small raise but nothing too significant.
Montour spent most of last year in the minors but played an important role in the playoffs due to injuries.  With a pair of regulars slated to be out for a while to start the season, he should see action early on and could play himself into a full-time role.
One Year Remaining, Non-Entry-Level
D Francois Beauchemin ($1MM, UFA)
D Kevin Bieksa ($4MM, UFA)
F Jared Boll ($900K, UFA)
F Andrew Cogliano ($3MM, UFA)
D Josh Manson ($825K, RFA)
F Dennis Rasmussen ($725K, UFA)
F Logan Shaw ($650K, RFA)
F Antoine Vermette ($1.75MM, UFA)
F Chris Wagner ($638K, UFA)
Potential Bonuses
Beauchemin: $600K
Ritchie: $850K
Total: $1.45MM
Cogliano has quietly been an effective secondary scorer in past years and fits nicely into a middle-six role.  Those types of players have started to get squeezed out in free agency as teams look to sign top guys and round out the roster with cheap depth.  Some players still buck that trend though and if Cogliano can get around 30 points again, he should be able to as well.  Vermette has seen his production dip in recent years but remains one of the top faceoff players in the game which means there will always be some sort of market for him.  He's also collecting $1.25MM from the Coyotes so between that and his current cap hit, he will likely have to take a pay cut next season.  The other four players on this list project to be depth pieces and won't be expected to earn any sort of big raise on their next contracts.
On the back end, there are two different types of players.  The first are the aging veterans, highlighted by Bieksa.  He's coming off of one of the quietest seasons of his career and has seen his role diminish quite a bit lately.  He might garner one more contract based on reputation but it shouldn't be close to what he's getting now.  Beauchemin has already stated that this is likely his final NHL season and will likely be more of a depth player when everyone's healthy but value wise, this is still a pretty good contract.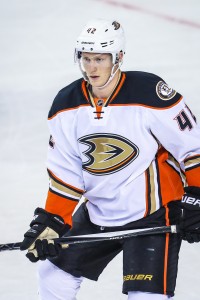 Then there's Manson on the opposite end of the spectrum.  He has been buried behind their other young blueliners but has still managed to establish himself as an up-and-coming top-four option.  He should get a chance to play a bigger role this coming season and with it, he'll have an opportunity to show he's worthy of a long-term contract like the others.  Manson will also have arbitration rights so he is well on his way towards landing a much bigger contract coming off of his bridge deal.  A lack of offense will limit the final number (he'll come in below their top-three) but it will still be a major raise that GM Bob Murray will need to budget for.
Two Years Remaining
G John Gibson ($2.3MM, RFA)
D Korbinian Holzer ($900K, UFA)
G Ryan Miller ($2MM, UFA)
F Jakob Silfverberg ($3.75MM, UFA)
Silfverberg continues to improve by the year and is now a quality second line forward at the very least.  He's already looking likely to get a notable raise two years from now but if he can crack the 50 point mark, he'll set himself up to be one of the more prominent names out there should he make it to the open market.  As for Holzer, he has been a serviceable number six option when called upon and will reprise that role for a couple more years now.  His next contract probably won't be much bigger than this one.
Between the pipes is certainly interesting.  Gibson hasn't completely established himself as a sure fire starter just yet but based on his improvement over the last couple of seasons, there's a good chance he'll be there by the time this contract is up.  If that happens, he could push for upwards of $6MM or more.  Will the Ducks consider trying to extend him a year from now when the asking price could potentially be a bit lower?  Miller was a nice acquisition to serve as insurance; he's among the higher-paid backups but as someone who can still handle a starting workload if need be, it's worth paying a bit more to have that option.
Three Years Remaining
F Patrick Eaves ($3.15MM, UFA)
D Sami Vatanen ($4.875MM, UFA)
After being a bottom-six player for basically his entire career, Eaves took off last season and was arguably the most surprising breakout player in the league.  The Ducks are banking that he'll still have at least some of that touch for this season and beyond after signing him before free agency.  Eaves doesn't have to eclipse 30 goals and 50 points to live up to the deal though; if he can even produce third line numbers, it should be a reasonable contract.
Vatanen took a step back offensively last year, scoring just three times.  As the league trends towards more mobile defensemen though, his value increases as he is a strong puck-mover and skater so even if the production doesn't take a big jump, he'll still be a key player for them.  Unfortunately for the Ducks, he will be on the shelf to start this year due to offseason shoulder surgery.
Four Or More Years Remaining
D Cam Fowler ($4MM in 2017-18, then $6.5MM through 2025-26)
F Ryan Getzlaf ($8.25MM through 2020-21)
D Hampus Lindholm ($5.206MM through 2021-22)
F Ryan Kesler ($6.875MM through 2021-22)
F Corey Perry ($8.625MM through 2020-21)
F Rickard Rakell ($3.79MM through 2021-22)
While Perry is typically a force to be reckoned with in the playoffs, his regular season output dipped considerably last year; not only did he not hit 30 goals for the first time in three years, he didn't even reach 20.  When he's on his game, Perry is still a very strong top line winger but if he's starting to slow down, this contract could be a problem down the road.  Getzlaf isn't a major goal scorer but he's still one of the more dominant centers in the league; while his deal is far from cheap, it's not a major overpayment either, particularly given the demand for top centers.  Kesler played up to his new contract last season but at 33 with five years left and his style of play, there's a good chance those last few years could become burdensome.  On the flip side, Rakell's deal looks to provide very strong value after a career season that saw him score 33 goals despite missing time early on.  A contract like his will help them to keep the higher-paid veteran core together a little longer.
It wasn't long ago that Fowler was the subject of frequent trade speculation.  He then went out and had his best season and earned himself a massive extension in the process.  As long as he plays similar to how he performed in 2016-17, this should be a reasonable contract at worst over the long run.  Lindholm's offensive numbers have dropped two straight years but there is still some upside.  If he can hold down a second or third blueliner role (a fairly safe assumption), then they'll get good value out of that contract.
Buyouts
D Simon Despres ($1.2625MM in 2017-18, a $338K cap credit in 2018-19/2019-20, $963K in 2020-21, then $663K through 2024-25)
D Mark Fistric ($450K through 2018-19)
Retained Salary Transactions
F Patrick Maroon ($500K in 2017-18)
Still To Sign
None
Looking Ahead
While Anaheim is in good shape cap-wise this season, that will soon change.  The team has over $56MM tied up into just 12 players for 2018-19 which doesn't leave a whole lot of wiggle room to keep some of their pending free agents (plus get Manson's next deal done).  Beyond that, the number of veterans they have on long-term deals will likely price them out of going after top players in free agency or trades for the foreseeable future.  The Ducks have been tight to the cap before (they finished with no cap space last year thanks to LTIR) and are likely to be in that spot once again pretty quickly.
Photo courtesy of USA Today Sports Images.