The Ottawa Senators have signed Craig Anderson to a two-year contract extension worth $4.75MM per year. The deal will kick in for the 2018-19 season, after his current contract expires. Both sides had recently discussed an extension, which will no longer be a distraction during the season. The deal includes a ten team no-trade list, and the salary will break down as follows:
2018-19: $5.5MM
2019-20: $4.0MM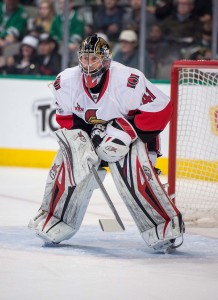 Since Anderson is already 36 years old, this deal will come with some restrictions. Should Anderson retire or be bought out before the end of the contract, his full cap hit will still be applied for the Senators. While he'll turn 37 at the end of this season, he's already shown that he can still be a near-elite goaltender in the league in his mid-thirties, and has the added safety of Mike Condon behind him in the net.
The Senators relied on a strong defensive system and excellent goaltending last year, and it appears as though they'll do the same for the next several years. With Condon's own new deal, the tandem will earn $7.15MM over Anderson's extension, a hefty price if they're not among the league leaders. Ottawa clearly believes they can be, especially after Anderson posted a .926 save percentage last year during the regular season, only to carry a .922 in the playoffs and help the Senators reach the Eastern Conference Finals.
Still, it comes with some worry. Ottawa has some big names up for new contracts in the coming seasons, with Mark Stone, Kyle Turris and Cody Ceci all free agents of some sort next summer. The year after that, Erik Karlsson and Derick Brassard come up, all the while the team will still be paying a combined $14.25MM to Bobby Ryan and Dion Phaneuf. Obviously things can change in an instant, but locking in a 37-year old goaltender for nearly $5MM per season is risky at best.
Anderson had one of the most emotional seasons in recent memory a year ago. After his wife Nicholle was diagnosed with cancer early in the season, Anderson was away from the team for some time. In his heart-wrenching return, he stopped all 37 shots to earn a shutout and would go on to post one of the best seasons of his career. By the end of the season, Nicholle would announce she was in remission just days after Craig did everything he could to keep the Senators in the playoffs. Stopping 39 of 42 shots, but losing to the Pittsburgh Penguins in overtime, the city of Ottawa would rally around the couple. Anderson took home the Masterton Trophy for perseverance and sportsmanship.
Photo courtesy of USA Today Sports Images