In the NFL, there is a prevailing theory that it takes wide receivers a few years to really establish themselves as forces in the league. Their third year is pointed at as a potential "breakout" period, when they can take a substantial step forward after learning how to better control their bodies and become accustomed to the league. While every year there are impact rookies in the NHL, there are still those that follow this same path. Despite getting plenty of playing time, they just don't seem to put it together until that third season.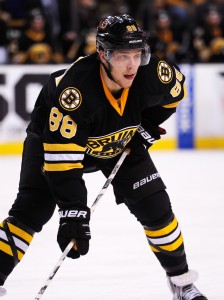 In 2016-17 we had plenty of examples of a player taking a huge step forward in his third NHL season. Many follow a normal development path like Leon Draisaitl, jumping from nine points in limited action, to 51 in his sophomore year and 77 in his third and best season so far. David Pastrnak—who remains unsigned by the Boston Bruins—on the other hand may be the best example of a third-year breakout. He registered 27 and 26 points in his first two seasons before finding another level last year to score 70 points. His jump of 54 points was one of the biggest in the league, and it came in just 75 games.
Jonathan Drouin came back from his troubled 2014-15 season to post a career-high 53 points last year in his third go-round, finally coming through on his drool-worthy offensive potential with some real production. Viktor Arvidsson was finally given a full-time opportunity in his third season and jumped from 22 career points to 61 in a single season (though it's hard to even call his first year a real season since he only got into six games).
This year there are plenty of candidates for a breakout. Players who though performing admirably haven't quite reached their potential during the first two seasons of their NHL careers, and could take a considerable step forward this season.
Colton Parayko – St. Louis Blues
Normally a defenseman who has started his career with 68 points in 160 games would be seen as a glowing success and not a breakout candidate, but that's just how high the ceiling is for Parayko. With Kevin Shattenkirk moved on to greener pastures, Parayko should have even more opportunity to prove himself as one of the league's young superstars. There is ample room to improve on his career-high of 35 points, and it's not out of the question that he will receive Norris trophy votes as soon as this season.
Remember Parayko was drafted back in 2012, and ended up going to the University of Alaska for three seasons before entering professional hockey. He's now 24, armed with a huge contract extension and ready to make it clear that he should be considered among the top tier of defensemen.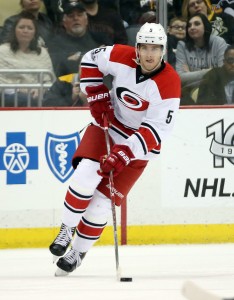 Noah Hanifin – Carolina Hurricanes
Hanifin has done everything the Hurricanes have asked of him, but still hasn't come close to the rock solid top-pairing player that he flashed as a freshman in Boston College. Hanifin took over games in the college ranks, but has settled into a good-but-not-great role in Carolina. Sitting behind Jaccob Slavin, Brett Pesce and Justin Faulk on the depth chart, Hanifin could experience a similar breakout to Jacob Trouba if an injury forces him into a bigger role.
It's interesting that fans have speculated on Hanifin being the odd man out in Carolina in trade scenarios for an upgrade at forward, even though his draft pedigree and early results should make him almost untouchable. He won't turn 21 until January of next year and could easily find himself in the conversation as the Hurricanes' best defenseman should he reach his immense ceiling.
Robby Fabbri – St. Louis Blues
Fabbri was well on his way to having a breakout season in his second year, playing at a near-50 point pace through 51 games. His season would be cut short in February when he suffered a knee injury, making 2017-18 one to watch for the young forward. In what should be an exceptional St. Louis offense, Fabbri is still sort of a wild card. Right now it looks like he may get to play with newcomer Brayden Schenn on the team's second line, and in that spot he'll hardly ever face the opponent's best defensive group (they'll be reserved for Vladimir Tarasenko and company).
Fabbri could easily find himself with a 60-point season this year, as long as the knee is back to 100% by the start of the year. Playing with offensive players like Schenn and Alex Steen will only help him work his magic in the attacking zone.
Nick Ritchie – Anaheim Ducks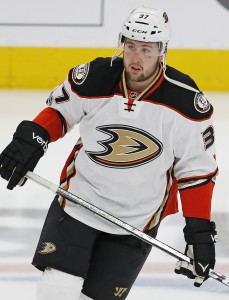 Power forwards often take a little more time to develop, and the Ducks are still waiting on Ritchie to take the next step. In 77 games last year he put up 28 points, which while respectable isn't the top-end goal scoring numbers they'd hoped for when they drafted him 10th overall. That production though came in limited minutes, and if he's given the opportunity the numbers are sure to follow.
Ritchie played just under 13 minutes a night last season, but saw that number drop even further after Anaheim acquired Patrick Eaves at the deadline. Eaves is back, but he's also now 33-years old and could take a big step back next season. If powerplay time becomes available, Ritchie could have a breakout season on his hands.
Oliver Bjorkstrand – Columbus Blue Jackets
Like Arvidsson, you can barely call Bjorkstrand's first two years with Columbus seasons. He's played in 38 games over the past two years, spending most of the time in the AHL instead. Still, he has provided tantalizing results in the minor leagues and has 21 points in his limited NHL sample. Even if that rate continued it would be a 45 point season for the third-round pick, good enough to constitute a breakout in his third season. But with Bjorkstrand there is even more upside.
In the WHL, the Danish forward dominated the competition scoring 144 goals in 193 games and has elite hockey sense with the puck. His nose for the net and ability to slide into undefended areas would allow him to be a consistent NHL scoring threat if given the chance. There are a ton of weapons in the Blue Jackets forward group, but if he were to find some early camp chemistry with one of the stars Bjorkstrand could easily slide into a top-six option without much resistance.
(*There are many other players who could experience a third-year breakout, and some will be discussed in future articles. This is not meant to be a ranking of any kind.)