Already busy earlier in the day, the Vegas Golden Knights announced that they have come to terms with Cody Glass, Nick Suzuki, and Erik Brannstrom, signing all three to entry-level contracts. The three were all 2017 first round draft choices, with Glass being the sixth overall pick, Suzuki 13th overall, and Brannstrom coming in at 15th overall.
Whether they will crack the Golden Knights' roster remains to be seen, but from the write up, it sounds like each can absolutely make a case for staying with the big club during the 2017-18 season. Though general manager George McPhee is known to prefer patience with his prospects, a good camp and roster full of players exposed by their former teams makes for an interesting opportunity for incoming rookies.
Vegas managed to snag two forwards who saw their stock rise throughout all of last season.
Glass spent the 2016-17 season with the Portland Winterhawks, registering 94 points (32-62) in 69 games  and being nearly a point-per-game in the WHL playoffs, potting four goals in 11 games. (4-5-9). The 18-year-old forward also has the unique distinction of being the first draft pick in franchise history, and with that comes some added pressure, though Glass is just "happy" to be a part of the history. McPhee moved to grab the two-way forward who came in graded as one of the better centers in what was considered a weaker draft. Blessed with excellent vision and what The Hockey News' Ryan Kennedy described  as a meteoric rise through junior hockey. Kennedy noted that Glass is the type of player who feeds off of being taken lightly, and believes that the kid will be putting up points in the NHL at high rates.
Similarly, Suzuki turned into one of the darlings of the draft. Another late bloomer, Suzuki is still only 17, and saw his stock skyrocket as the months, weeks, and days drew closer to the draft. Just days before the draft, Kennedy reported that Suzuki was easily the best possession forward in the draft, putting top picks Nolan Patrick and Nico Hischier in his rear view mirror according to the advanced stats.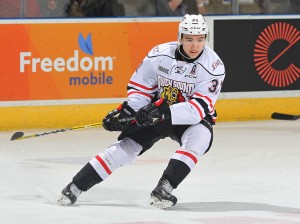 Great at avoiding penalties, Suzuki tallied 45 goals for Owen Sound in 2016-17, and bested his new teammate by two points (45-51-96) in just 65 games. If the two truly pan out as many expect, Vegas could have a potent one-two punch at center, which is what dominant teams build foundations upon.
Brannstrom has drawn comparisons to Ryan Ellis, and McPhee noted how getting two elite centers and a mobile defenseman with three top fifteen picks is certainly a road to success. Unlike his teammates drafted before him, Brannstrom would have to return to his Swedish club HV71 should he not be added to the Vegas roster–though it seems a long shot due to his younger age and smaller stature.
Regardless of whether or not the three make the opening roster, Vegas seems to have a great jump on their future with the picks of all three. Whether they earn a few years of extra seasoning, or jump into the NHL fray immediately, Glass, Suzuki, and Brannstrom all bring a dose of optimism to the league's newest organization.
Photo courtesy of Getty Images