The Tampa Bay Lightning continue to lock up their core pieces, signing Ondrej Palat to a five-year contract worth $26.5MM. The contract will have an average annual salary of $5.3MM, but the breakdown of the deal is as follows: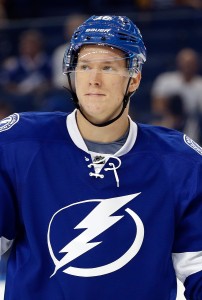 2017-18: $5.6MM
2018-19: $6.855MM
2019-20: $5.3MM
2020-21: $3.445MM
2021-22: $5.3MM
This comes on the heels of a seven-year extension for linemate Tyler Johnson, that will see him earn $5MM per season. The fact that Palat comes in a tick ahead of him in terms of salary is a direct result of the length of the contract, as the two have very similar rates of production (though admittedly at different positions).
In the past twelve months (and change), Lightning GM Steve Yzerman has given out long-term deals to Palat, Johnson, Alex Killorn, Victor Hedman and Steven Stamkos, while also getting Nikita Kucherov and Andrei Vasilevskiy under decently priced bridge deals that will keep them restricted free agents after they expire. All that, plus a heck of a lot of work to clear enough room for it all has the Lightning locked in to this group for quite a while, and will allow them to compete together for the Stanley Cup.
Palat, 26, is giving up four unrestricted free agent years in the deal and will do so at a reasonably priced cap hit. His production since joining the team full time has been excellent, with 218 points in 307 games. During that time he's also received Selke votes as the league's top defensive forward three times, and has registered excellent possession numbers throughout. With Jonathan Drouin gone to Montreal, the team will rely on Palat even more as a top offensive weapon and will give him ample powerplay time.
One of the best seventh-round picks in recent history, Palat has come a long way since his humble beginnings in the draft. Passed over completely after his first year in the QMJHL, the Czech winger was taken with the third last pick in 2011 even after scoring 96 points for Drummondville. In what has turned into arguably Yzerman's best draft, Palat joined Vladislav Namestnikov, Kucherov and Nikita Nesterov on the Lightning's board that day.
Palat was set to have a hearing on July 25th after filing for player-elected salary arbitration, but was always expected to sign a long-term deal beforehand. With all of the key RFAs now dealt with, Tampa Bay has just over $3.2MM left in cap space—an amazing feat considering the trouble they were in just a few months ago.
Craig Morgan of AZ Sports was first to report the deal, and give the salary breakdown.
Photo courtesy of USA Today Sports Images