Mike Fisher is coming off a rebound season and has a proven track record of being a strong middle six center.  Despite that, he remains unsigned so far in free agency although his case is a fair bit different than many of the others still on the open market.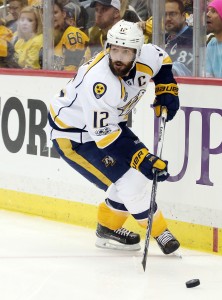 The long-time Nashville forward struggled considerably in 2015-16 which, coupled with his age, led to some speculation that 2016-17 could be his final year.  Instead, he slotted in nicely on their second line for most of the year, picking up his highest point total in three seasons along the way.  That production did change in the playoffs though as he was unable to score in 20 games although he was dealing with an undisclosed injury for at least part of the postseason.
Even if his offensive numbers were to decline from the 42 points he put up, Fisher easily still has another couple of years in him as a third line pivot who is consistently above average at the faceoff dot.  However, at 37 years of age, he hasn't decided whether or not to play yet in 2017-18 and if he'd be willing to change teams if need be.  At this point, that's the hold up instead of there simply being less of a market than anticipated.
Potential Suitors
The obvious one here is Nashville.  He has significant ties to the market and while the team hedged against him leaving by signing Nick Bonino from Pittsburgh, he'd still safely slide in on their third line while continuing to fill a big leadership role as well.  Cap space shouldn't really come into play here as the Preds have nearly $19MM in room with only Ryan Johansen, Viktor Arvidsson, and Austin Watson still to re-sign.
If he were to hit the open market and consider going elsewhere, he would be a strong fit for Pittsburgh's present third line vacancy.  Fisher would capable of moving up in a pinch if injuries strike but would provide some strong two-way play in their bottom six.  The Canadiens are in dire need of help down the middle and currently have the cap room to make a significant offer if money would play a big factor.  The Rangers haven't exactly replaced Derek Stepan (traded to Arizona) yet either and while Fisher wouldn't be expected to take on that top line role, he would still represent an upgrade over some of the other centers they have in the organization.
Projected Contract
Fisher ranked 18th in our Top 50 Free Agent Rankings and we projected a one-year, $3MM contract for him.  Assuming he decides to return for 2017-18 instead of hanging up his skates, a deal around that amount is still fairly likely at this point.
Photo courtesy of USA Today Sports Images.