The Ottawa Senators have locked up Mike Condon to a three-year deal which will pay him an average of $2.4MM per season. Condon was ranked 28th on our free agent list, predicting that he'd get a two-year deal worth $5MM.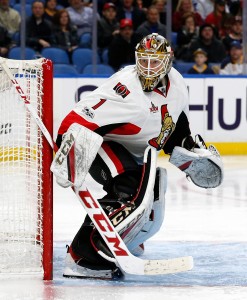 Interestingly, Ottawa now has three different goaltenders on one-way contracts for next season, including starter Craig Anderson and depth goaltender Andrew Hammond. The total of all three will be close to $8MM, a big number for a club who works from an internal budget.
Condon found a home in Ottawa this year after first being selected off waivers by Pittsburgh from Montreal, and then traded to the Senators just a week later. His unstable start to the season relinquished, and he fit in well with Anderson in a sort of pseudo-tandem. Anderson missed large chunks of the season at random to be with his wife Nicholle as she dealt with an illness, and in those times Condon was relied upon as the starting goaltender. While Nicholle and the Anderson family seems to be on the road to recovery, Condon can work as a backup for a year and take over when the 36-year old sees his contract expire next summer.
Getting a three-year deal for Condon is a big deal after the uncertainty of going through waivers at the beginning of the year. The Montreal Canadiens, Condon's first NHL team, turned to Al Montoya as their backup instead and saw him post a similarly strong season. Montoya earned an extension of his own earlier this year, and will earn just over $1MM per season for the next two years.
Ottawa now has around $11MM in cap space remaining for next year, but has rarely pushed up to the ceiling since the cap was introduced. With a long playoff run and extra revenue in their pockets perhaps they're willing to invest in the team, but with Ryan Dzingel and Jean-Gabriel Pageau still due new contracts there won't be a ton of room left under the cap.
Photo courtesy of USA Today Sports Images