While the expansion draft is set to headline a busy NHL offseason, there are still several other storylines for each team in the months ahead. Here is a closer look at what lies ahead for the Minnesota Wild.
Things were looking up in Minnesota at the beginning of March.  They led the Western Conference in points and decided to go all in, adding one of the biggest names available at the trade deadline in Martin Hanzal.  Unfortunately for the Wild, it went downhill from there and they were eventually eliminated in the first round, hardly the outcome they were expecting.  Now GM Chuck Fletcher is tasked with restructuring a team that was built for 2016-17 to be their year.  Here are some objectives he'll be looking to meet this summer.
New Deal For Granlund
Minnesota isn't going to have a lot of money to work with this offseason (they have $61.5MM in committed payroll but only 15 players under contract per CapFriendly) but they're going to have to open the vault for forward Mikael Granlund.  After showing flashes of his potential, he put it all together and became a top line forward.  His timing couldn't have been better either as he's eligible for restricted free agency with arbitration rights next month.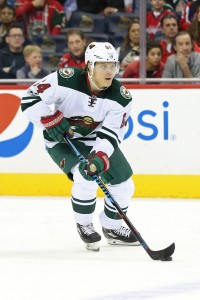 The 25 year old had 69 points, quite the platform season considering his career high was 44 which was set in 2015-16.  That makes his case a particularly interesting one.  Did Granlund's full-time shift to the wing truly represent a significant and sustainable breakthrough or was it more of a 'perfect storm' situation where everything went right?  Fletcher's answer to that question may dictate their approach; if he thinks Granlund has truly turned the corner, he'll push for a long-term contract.  If not, a one year deal may be most prudent even though it would take Granlund within a year of unrestricted free agency.
Whichever route they do go, the Finnish forward is set to earn a sizable jump from the $3MM cap hit he had on his current deal (he's due a qualifying offer of $3.2MM).  Michael Russo of the Star-Tribune reports (Twitter link) that while Fletcher and Granlund's agent met back at the NHL combine, no negotiations took place and they will likely meet again at the draft.
Defensive Decisions
Normally, having too many quality defensemen would be considered a good thing.  However, expansion creates a dilemma for the Wild, who have five blueliners that are worthy of protection.  The standard 7/3/1 route will leave two of those exposed while it's hard to fathom a team protecting five blueliners and just three forwards, especially considering the no-move clauses they have up front with Mikko Koivu, Jason Pominville, and Zach Parise.  No matter what, it's shaping up that they'll have to leave at least one above average defender unprotected with that player being a probable selection by the Golden Knights.
That leaves Fletcher with a tough decision on his hands.  Does he bite the bullet and lose one for nothing or does he try to flip one elsewhere via a trade and then protect eight skaters in the hopes of keeping the other four around?
Either way, it's going to be a tough call with regards to who the odd man out would be.  Ryan Suter has a no-move clause himself so it won't be him.  Jared Spurgeon has emerged as a strong two-way defender so he's probably safe as well.  Marco Scandella has been a solid second pairing player and has a good contract with three years remaining at a $4MM cap charge.  The other two, Jonas Brodin and Mathew Dumba, are 23 and 22 respectively and have several years of team control remaining.  Losing any of those players for free (or less than market value) would be a tough pill to swallow but Fletcher is likely going to have to choose which player that happens to.
Find A New Backup Goalie
Devan Dubnyk got off to a strong start this past season but clearly wore down as the season went on.  Part of the reason for that was that head coach Bruce Boudreau didn't have much confidence in Darcy Kuemper who had a tough season so he opted to overplay Dubnyk as a result.  Kuemper is set to become an unrestricted free agent and it wouldn't be surprising to see the Wild look outside the organization to find his replacement.
Alex Stalock was signed to a two year extension midseason in a move that was primarily expansion-related.  While he is capable of playing in a pinch, he's best served at this stage of his career as a third stringer that can play a few NHL games if someone gets hurt.
There will be several goalies to choose from in free agency but by the time the Wild get through their own free agents (most notably Granlund and Nino Niederreiter), they're not going to have a lot of money to work with.  Do they go bargain hunting or do they look for one of the higher end backups in the hopes of getting someone who can help keep Dubnyk fresher for the stretch run?  If they go the latter route, spending that extra money may take them out of the running of doing something else but the trade-off may still be worth it if it keeps their top netminder in top form longer.
Photo courtesy of USA Today Sports Images.