The Dallas Stars have found common ground with a defenseman, inking Esa Lindell to a two-year extension worth $4.4MM. The contract will pay him $2.2MM per season, a healthy raise from his entry-level contract. Lindell was a pending restricted free agent for the first time.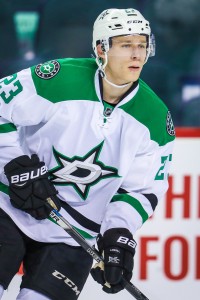 The 23-year old Lindell was likely the Stars' second-best defender as a rookie last year behind only John Klingberg, and will return to log big minutes once again. Though he didn't bring quite the offensive flair he had shown in the minor leagues, his 18 points were still a solid number for such a young defenseman. He ranked second on the team in blocked shots, and saw the ice for almost 22 minutes a night for the disappointing Stars team. Though they're looking to bring in a more veteran defenseman to take some of that responsibility, Lindell will continue to be relied upon in big situations.
Interestingly, Lindell rates extremely poorly in terms of possession statistics, helping generate shots at a terrible rate. While his suppression numbers are better, it will be interesting to see if he can start performing better offensively as he grows into his role. In the AHL, Lindell put up 42 points in 73 games as a rookie including 14 goals. His big shot and relatively crisp passing ability should lead to higher point totals, but he does still need work skating the puck out of his own zone at times. At 23 he has a few more years to develop into a better all-around player, but he's already surpassed his third-round draft tag.
The Stars, with lots of cap space and a team that is expected to bounce back under the leadership of Ken Hitchcock, will be going after defensemen on the open market. Already they've been linked to Marc Methot from the Vegas Golden Knights, while the potentially could go after other left-handed defensemen like Karl Alzner or Brendan Smith. After clearing out some more room with an Antti Niemi buyout, they'll be one of the more interesting teams to watch this summer.
Photo courtesy of USA Today Sports Images