The Washington Capitals continue to lock up their players long-term, this time inking Dmitry Orlov to a six-year contact. The deal will pay him $30.6MM ($5.1MM AAV) over its duration, making the 25-year old Orlov the third highest paid defender on the team. Orlov was a restricted free agent, but now will be part of the team's plans for the next half dozen years at least. The contract will be broken down as follows: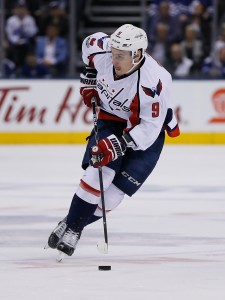 2017-18: $6.5MM
2018-19: $6.5MM
2019-20: $6.5MM, 5-team no-trade list
2020-21: $4.5MM, 5-team no-trade list
2021-22: $3.3MM, 5-team no-trade list
2022-23: $3.3MM, 5-team no-trade list
A second-round pick in 2009, Orlov has developed into one of the premiere young two-way defenders in the league. His 33 points last season ranked him within the top 50 among defensemen, and both possession metrics and traditional scouting has him as a plus player in all ends of the rink. His smooth skating and control of the puck helps the Capitals exit the zone with ease, and with a little more experience on the powerplay he could become a big point producer. He even received a single fifth-place Norris Trophy vote this season as one of the league's best defensemen.
Orlov's deal comes in just ahead salary wise of Toronto's seven-year extension for Nikita Zaitsev, a similarly efficient two-way defender. Zaitsev has much less experience in the NHL, but actually outpaced him in points this season. The Toronto defender will average $4.5MM throughout his contract. Isabelle Khurshudyan of the Washington Post points out Nick Leddy's deal with the New York Islanders, a contract that he signed at just 23. In that deal, Leddy will earn $5.5MM per season over seven years (five remain) though he had a longer track record of success than Orlov does.
For the 25-year old, this deal comes as nice security after suiting up in all 82 games the last two seasons. Incidentally, the Capitals have won the President's Trophy as the best regular season team in both those years, not in small part to Orlov's contributions. He'll join partner Matt Niskanen as long-term pieces for the Capitals, who will have a decision to make on John Carlson next summer. The 27-year old Carlson is an unrestricted free agent next year, and could potentially work out an extension with the team starting tomorrow. It's unclear how much they'd want to commit to Carlson though, as they currently still have Brooks Orpik on the books for two seasons at $5.5MM.
With new contracts due for Andre Burakovsky, Evgeny Kuznetsov and Philipp Grubauer it will be a tight fit for the Capitals this summer. They have just under $12.5MM left on the cap, which is expected to be almost entirely eaten up by extensions for those three. If the team wants to play in free agency, they'd have to find room somewhere else. If you're thinking an Orpik buyout, think again; he would have had to been placed on waivers in order to get it in before the deadline at 4pm today. They may get another window later in the summer, but that will be long after most of the free agent frenzy has taken place.
Photo courtesy of USA Today Sports Images