The Calgary Flames have found a way to fit Michael Stone into their salary structure, agreeing to terms with the pending UFA for three years and $10.5MM. Despite already acquiring Travis Hamonic to play in their top-4, Stone will return to help the Flames fill out their bottom pair and give them some of the best defensive depth in the league. He was ranked #15 on our list of the Top 50 Free Agents, projecting a two-year deal worth $7.2MM.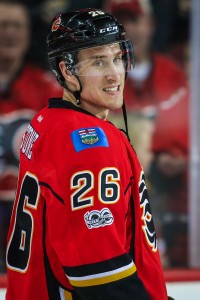 Amazingly, Stone was able to lock down a third year and a little more money to keep him from hitting free agency, and will now slot in as the fifth-highest paid defender in Calgary. That number, $3.5MM per season, is a nice reward for a player who has had trouble staying healthy and producing at a consistent rate. After breaking out with 36 points in 2015-16, Stone struggled at times this year and recorded just 15 points splitting his time between Arizona and Calgary.
That potential upside is a nice acquisition for Calgary, as there's no saying he can't get back to the 30+ point defender given the right opportunity. Though he will likely not get much powerplay time behind other options in Calgary, he could still play a big role on what looks like a very good team. Calgary are the early winners of the offseason, improving their defense group and goaltending immensely in a short period.
Calgary will need to be careful with the rest of their cap space, as they now have less than $10MM to work with and three restricted free agents left to sign. Curtis Lazar, Sam Bennett and Micheal Ferland all need new contracts, and though it will be possible to sign them all it won't leave much room for any in-season acquisitions or free agent signings. Perhaps Calgary has something else up their sleeve to move some salary out, but as of now they look like a pretty complete team.
For Stone, clearly staying in Calgary was a good option for him if they were going to offer him the term and money he received. Though he may not play the same role he would have somewhere else, his chances of winning are as good as anywhere and the salary is probably equal or better to what he could have found on the open market. Even with a lack of available defensemen, it's hard to believe teams would offer him any more than $3.5MM or a guaranteed role in their top four.
It's also a return to where he played junior hockey, a familiar stop for Stone. In four years for the Calgary Hitmen, the Winnipeg native showed off his offensive upside, won a WHL championship and even spent one season as captain. Fans of his junior performances will be able to see him for a few more years, and hopefully see him raise a different trophy.
Interestingly, a condition on the trade that originally brought Stone to Calgary was that if he re-signed before July 1st the Flames would send an additional fifth-round pick to Arizona. The Flames are now missing their second, third and fifth round picks next year, though they have an extra fourth (depending on some conditions in the Hamonic deal) and seventh.
The deal was originally broken by Bob McKenzie of TSN.
Photo courtesy of USA Today Sports Images