Andrei Markov has been clear with his desire to return to Montreal, but it won't come cheap. Renaud Lavoie of TVA Sports is reporting that the Markov camp's current ask is two years at $6MM, a number that may be unreasonable for the Canadiens to work with. Obviously as with any negotiation, a side presents a bigger offer than what they're willing to eventually take,but $12MM for a 38-year old defenseman is certainly a big ask.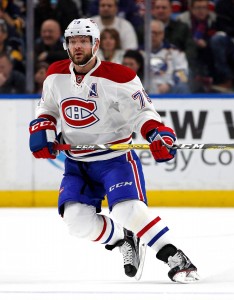 Markov was effective again for the Canadiens when he was on the ice, registering 36 points in 62 games. The career-Canadien has played 990 games for the club since debuting in 2000, recording a very healthy 572 points during that time. One of the best and most consistent offensive defensemen over his career, he certainly has the resume to demand a $6MM salary. It's that age that comes into play, as a two-year deal would take him past his 40th birthday and he did miss time this year after being healthy for several seasons.
It's a risky move for any team, and would actually be a raise for Markov after earning $5.75MM ($4.25MM actual salary) last year. He does have the market going for him, where there is a distinct lack of defense options and teams like Montreal may be desperate to fill holes after the expansion draft. It's unlikely he gets the full $12MM, but a two-year deal doesn't seem completely out of the question. With the free agent window open for teams to talk (about anything other than contract details) with players about a possible fit, Markov has surely received several messages from around the league. Whether he pulls on a new sweater to end his career, is still to be decided.
Photo courtesy of USA Today Sports Images