Earlier today it was announced that the rights of Nail Yakupov and Nikita Kucherov were dealt to reigning KHL Gagarin Cup Champions SKA St. Petersburg. While Kucherov sounds like the big name in the deal he—along with Marcus Johansson who went the other way—is under contract in the NHL and unable to return to Russia for several years. In actuality, the biggest name may be that of Yakupov who as of July 1st will not be under contract with any team in the NHL.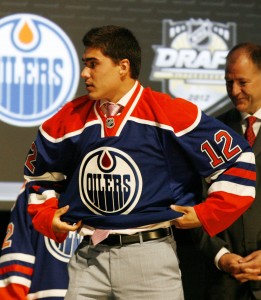 While St. Louis will still hold his rights as a restricted free agent (as long as he's not selected by the Vegas Golden Knights or traded before then), there will certainly be an effort from St. Petersburg to entice him to return to Russia. Especially as SKA prepares to possibly lose Ilya Kovalchuk, Vadim Shipachyov and Evgeni Dadonov all in one summer to the NHL, the money waived in front of Yakupov will be substantial. When looking at his career up to this point, and the deal he would likely have to settle for in the NHL—should he even be tendered a contract at all—returning to Russia may be his best option.
Heading into the 2012 draft, Yakupov was an interesting case. After blowing up the OHL in his rookie season in 2010-11 with 49 goals and 101 points, Yakupov struggled through a concussion that stole much of the season and even though he finished with 69 points in 42 games he was no lock to go #1 to the lottery-winning Edmonton Oilers. Alex Galchenyuk, Yakupov's teammate with the Sting had suffered a knee injury just before the OHL season had started, and missed all but two games during his draft season. Even though he played the more highly touted position (center), drafting Galchenyuk first overall would have been a huge surprise given his almost full season away from the game.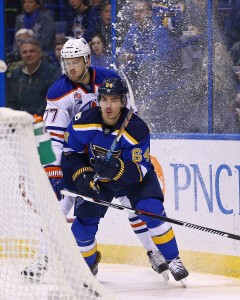 Ryan Murray, another option who would eventually go to the Columbus Blue Jackets at #2 was apparently the overwhelming choice by Edmonton scouts going into the draft, but wasn't the final decision by the front office. Murray has had a fine career in Columbus, but is starting to be pushed to the sidelines just as Galchenyuk is in Montreal. None were a lock even then.
Yakupov never did really work out for Edmonton, despite a strong rookie campaign in the lockout-shortened 2012-13 season. 31 points in 48 games seemed to be right on track for a first-overall pick, and a season he could build on in the future. Instead, he has only cracked 30 points again once, and it took him 81 games to do it. The Oilers moved on from him when they dealt him to St. Louis for an ECHL center and conditional third-round pick. Many people responded with an "addition by subtraction" take on the deal, thinking Yakupov was hurting the Oilers more than he helped them.
In 40 games with the Blues this season, Yakupov scored just nine points and was a healthy scratch often. He never found comfort in his new surroundings, and now may not even be tendered a qualifying offer this summer. The Blues would have to offer him $2.5MM once again, the same number he earned this year. That number is much too high for a 13th forward who isn't producing even when he's in the lineup. So again, there is the KHL option.
Yakupov has only played 22 games in the KHL his whole life, leaving Russia before it was an option for him. During the lockout, he spent some time playing for his hometown of Nizhnekamsk, scoring 18 points in those 22 games. While it's no guarantee that he would find success again there, still just 23-years old it may be a good way to rebuild some of his confidence and value. It won't hurt that it likely comes with a substantial paycheck.
Photos courtesy of USA Today Sports Images