When the Edmonton Oilers and Anaheim Ducks do battle tomorrow night, they'll decide whether a team that has struggled for a decade will be lifted to the promised land by a baby-faced savior, or another will overcome a game seven tradition on the back of a grizzled veteran center. While Connor McDavid and Ryan Getzlaf do battle in southern California there will be a whole group of fans a few states over cheering "Go Ducks Go!" for perhaps the first time in their lives.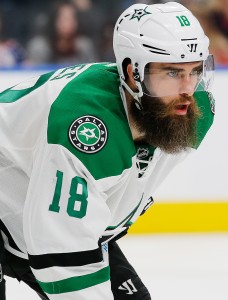 That would be the Dallas Stars, who with an Anaheim victory would see the second-round selection acquired for fan-favorite Patrick Eaves at the deadline morph into a first-rounder, albeit near the end of the round. Moving up 30 spots on the back of one game makes this match the most important one of the year for Dallas—even if they're not playing in it. Even though Eaves himself hasn't played since game three of this series, his seven matches in the first two rounds already qualify the Stars for the upgrade (he needed to play in just 50% of the games throughout the first two series).
For Dallas, who watched everything go wrong this season after leading the Western Conference in 2015-16, moving up would be a nice end to a disappointing year. Already having fired their coach, the team is reeling this summer wondering which direction to take a team that looked so dangerous just a year prior. The expansion draft, free agency and the trade market are all huge question marks for Dallas, as they try to rebuild a blueline and find someone, anyone, to stop a puck.
When they sold off Eaves—and Jordie Benn—at the deadline, many fans shouted with frustration at watching some of their heart-and-soul players (beards) walk out the door in a season where they should be buying instead of selling. Now, the idea of getting a first-round pick and the chance to bring Eaves back in free agency should be an exciting prospect. After 32 goals this season there will be plenty of suitors for Eaves, but perhaps the team that has kept him in the NHL when many others would have pushed him out has an inside track.
So while the Ducks try to exorcise their game seven demons, they'll have the support of a whole swath of Dallas Stars behind them. Whether that's enough to overcome the suddenly unstoppable Leon Draisaitl, and contain a resurgent Mark Letestu—not to mention that McDavid guy again—is still to be seen.