In a bombshell dropped by Paul Hamilton of WGR 550 in Buffalo, he reports that Jack Eichel will not sign an extension while Dan Bylsma coaches the Sabres. The two have been rumored to have differences of opinion all season, though General Manager Tim Murray made it clear recently that he hoped to lock up Eichel long-term this summer. John Vogl of The Buffalo News got in touch with Peter Fish, Eichel's agent for a response on the matter, who said that the report is "ridiculous" and that the whole situation is "very misunderstood."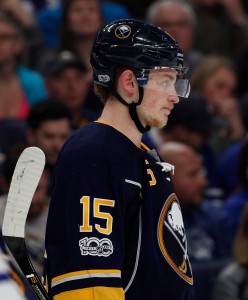 Obviously, things can change on a day-to-day basis with contract negotiations, but this is just the latest example of unrest Eichel has recently shown with the state of the team. In his year-end press conference, the superstar forward told media that the team couldn't be "satisfied with the fact you're in the NHL" and that his team needed to dedicate their lives to the game. Some of that frustration may come with the fact that he'd just lost out on a $2MM performance bonus the night before, but he's clearly not happy.
As he heads into his final year of the three-year entry-level deal he signed after the draft, Eichel was eligible for an extension on July 1st. Murray obviously had plans to talk to his camp as soon as possible, but this may throw a wrench into those plans. To be clear, this is not Eichel or anyone in his camp publicly saying they wouldn't negotiate, but perhaps not entering the room in good-faith from the start. If he does refuse, it would be an extremely hot seat this season for Bylsma to turn the team around and show some success. Another season out of the playoffs combined with the ire of your team's best player would easily be enough to lose his job.
Eichel doesn't have a ton of leverage here, as even though his contract is up after next season he will not be an unrestricted free agent. We have seen time and again how holdouts rarely end in the player's favor, but with a player the caliber of Eichel things may be slightly different. Either way, that is still more than a year away and shouldn't be considered a likelihood. For now, the Sabres will just have to deal with this bad press about their head coach—who, of course, is a former Stanley Cup champion and Jack Adams winner for coach of the year.
Photo courtesy of USA Today Sports Images