After announcing that Patrick Sharp is the Dallas Stars' nominee for the Bill Masterton Memorial Trophy, the team sent out another piece of less inspiring news. The veteran winger will have surgery Tuesday on his hip and will be out for the remainder of the regular season. The team has called up Jason Dickinson to replace Sharp on the roster.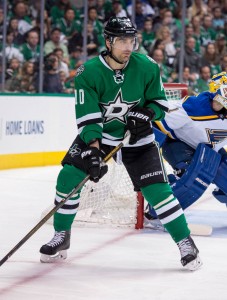 This ends what has been a difficult final season for Sharp in Dallas, as he heads into free agency for the first time in his NHL career. Prior to this season Sharp had only signed extensions before his contract ended, but it looks like he'll hit the open market this summer. Once one of the most consistent goal-scoring threats in the league, Sharp failed to register double-digits for the first time while playing in more than half of the season's games. His 18 points in 48 contests also represents the lowest mark of his career since his rookie year.
After suffering a hit from the Los Angeles Kings' Brayden McNabb in October, Sharp was held out for much of the first half with concussion symptoms and never seemed to find his footing after his return. When his hip injury started to act up, Stars GM Jim Nill was open with other team's around the league about the condition, telling them he wouldn't trade Sharp at the deadline. Instead, he struggled through another few weeks of games only scoring three points in the month of March, and being held off the scoresheet in his last eight.
Sharp will turn 36 during the 2017-18 season, and if he wants to play again next year he'll have to show a quick rehab from the surgery. As his play has declined, so likely has the interest from around the league in bringing in the four-time 30-goal man. He will have to take a short-term deal on the open market with a contender with performance-related bonuses. For a three-time Stanley Cup Champion, it is a disappointing career to his time in Texas.