While it is still pending details and a trade call, Bob McKenzie of TSN is reporting that the Pittsburgh Penguins have traded recently waived Eric Fehr along with Steven Oleksy and a fourth-round pick to the Toronto Maple Leafs for Frank Corrado.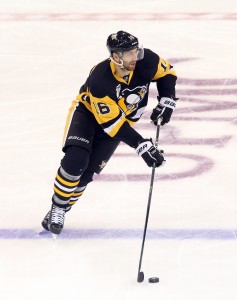 For the Maple Leafs, this is another example of using their cap space as an asset during their rebuild. In Fehr, the Leafs have taken on the rest of his contract which has another year at $2MM in return for the draft pick. He also fulfills their expansion requirements up front, though they were likely not in much trouble there anyway.
For Corrado, another player who cleared waivers earlier this season, he provides some more right-handed depth for the Penguins. As the team also added Mark Streit, their defense corps is very full going forward but is now ready for a long playoff run and some possible injuries. Corrado hadn't played much at all since coming to the Maple Leafs, and now might have to wait for an opportunity to open in Pittsburgh as well.
If the Maple Leafs bury Fehr in the minors, he'll join Brooks Laich, Milan Michalek and Colin Greening on the most expensive AHL team in the league. All four forwards are capable bottom-six players that will provide some depth for Toronto as they try to get back to the playoffs. If the team deems him a good fit for the NHL squad, he would likely slot in beside Matt Martin and Brian Boyle on the fourth line. That would mean sitting Josh Levio, who has proven himself a capable offensive producer even with limited minutes.
Photo courtesy of USA Today Sports Images