The newest NHL franchise gained official standing in the league yesterday and with it the power to sign free agents, make deals and move draft picks. They likely were already talking to teams about possible expansion draft scenarios, and one former GM who has been through a similar situation thinks they've already agreed to a handful of moves. Doug McLean on Sportsnet radio today was talking about the Vegas Golden Knights and said that he thinks the team has already locked up at least part of their roster.
I would bet dollars to donuts on this. Their number one goaltender is done. Guaranteed that.

That's the one position that I'm sure, you'll have that locked up. Maybe it's not signed or whatever the legality is, because George [McPhee] would go by the book. I think that position is done.
While McLean doesn't sound like he has a source that's telling him that the Golden Knights have completed a deal, he does have plenty of experience in this area. He was the general manager of the Columbus Blue Jackets when they and the Minnesota Wild went through the expansion process in 2000. He later says that he had at least half a dozen deals done by the draft, and it was more difficult then because two teams were coming in at the same time.
McLean has an idea of who that goaltender might be, and it's not Ben Bishop. Many have wondered whether the Golden Knights will go after Bishop on the free agent market, as his deal expires this summer. The former Vezina runner-up is now with the Los Angeles Kings as they try to make the playoffs.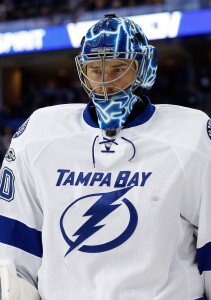 The panel—which includes Nick Kypreos and Jeff Marek—also ponder the idea that Eric Fehr is destined for Vegas as well, and that Lou Lamoriello may have acquired him with a deal already agreed to with McPhee. Fehr did play for McPhee for many years in Washington and could be part of a leadership group in what will be a rag-tag bunch of players in the Golden Knights' first season. The expansion team will need to come to the cap floor, and players with one or two years remaining with a moderate cap hit might be solid targets to get them there in the first season.
While there isn't—and likely won't be—any proof that the Golden Knights have made deals before the expansion draft, it's something to think about if you're still wondering why your favorite team did one thing or another at the trade deadline. There are often explanations behind the scenes, and with the varying rules that go along with the draft different scenarios can arise that aren't clear at the moment.
One that was posed in one of our recent live chats, is the idea that a team would keep a pending unrestricted free agent as bait for Vegas, since if they sign them in the window before the expansion draft, they won't select a player from that team's roster. Bishop was the example used, but perhaps there have been discussions about Radim Vrbata heading to Las Vegas when the season is done, protecting the Coyotes from any selection. In any case, one should not dismiss McLean's opinion on the matter so quickly, as he's one of a handful of people in the world who have been in a similar situation in the past.