Elliotte Friedman of Sportsnet is reporting that Thomas Vanek is headed to the Sunshine state. The Detroit Red Wings will trade the winger to the Florida Panthers in exchange for Dylan McIlrath and a third-round pick. The Red Wings will also retain 50% of his salary for this season. Darren Dreger reports that if the Panthers make the playoffs, the pick will be Arizona's third-round selection, not Florida's.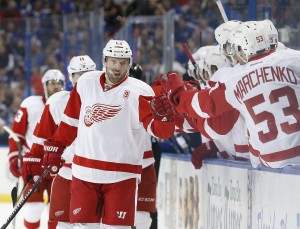 Earlier this month Dale Tallon told the media that he'd like to add something on the powerplay, and Vanek surely fills that need. The former 40-goal scorer has 129 career tallies on the PP and still has the ability to score from anywhere below the hash marks.
The 33-year old is an unrestricted free agent at the end of the season after signing just a one-year deal this summer with the Red Wings. At $2.6MM he already didn't cost very much from this point in the season, and with Detroit retaining half the Panthers will be paying less than $1MM to add him.
Many Detroit fans may be disappointed with the return, as a third-round pick is the same thing they got for Tomas Jurco in a previous deal. Vanek is obviously much more established than Jurco, but the questions about his defensive ability have haunted him for a long time.
McIlrath is a former 10th-overall pick, but was never expected to go that high. He very predictably hasn't become a defenseman you can trust with much more than a fight, despite several chances in the NHL. Perhaps Detroit believes they can turn his career around, just as Florida did earlier this year.
Vanek was the first domino to fall today (unless you count the deals last night) and should push along the markets for Radim Vrbata and Jarome Iginla. Vrbata stands as probably the best option for a top-six left on the market, which isn't saying much.