The Columbus Blue Jackets have locked up three pending restricted free agents today, signing Lukas Sedlak, Markus Hannikainen and Scott Harrington to one-way, two-year contract extensions. Sedlak and Harrington will carry a $825K cap hit ($800K in 2017-18 and $850K in 2018-19) while Hannikainen will have a $675K cap charge ($650K next season and $700K in 2018-19).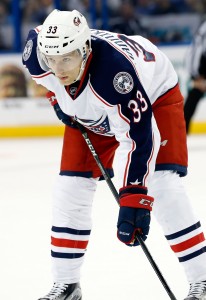 Sedlak, 24, is the only one of the three who would qualify to fill the expansion draft's 70/40 requirement with his 56 games played this season. The rookie has scored 13 points during those games, mostly centering the fourth line and contributing on the penalty kill. Selected in the sixth round of the 2011 draft, the Czech forward spent three seasons developing his defensive game in the AHL before earning a roster spot this year. That included a Calder Cup win last season, as he led the Lake Erie Monsters with 16 playoff points (tied with Oliver Bjorkstrand).
Hannikainen, 23, started his North American career last season after exploding onto the scene in Finland in 2014-15. After going undrafted in the NHL, Hannikainen suddenly put up 46 points in 60 games for Jyvaskyla and was signed soon after the season by the Blue Jackets. Though he didn't have quite the same impact last year in the AHL, he has had a solid year for the Monsters this season with 24 points in 43 games. In ten games with the Blue Jackets this year, he's recorded two points.
Since being picked by the Pittsburgh Penguins in the second round of the 2011 draft, Harrington has had his name in the news quite a bit. He was part of the trade that saw Phil Kessel leave Toronto for the Penguins, before ultimately being traded for Kerby Rychel last summer. With only 41 NHL contests under his belt, it's surprising he received a one-way deal especially with the strength of the Blue Jackets on defense. He'll have to prove that at 24 he still has some upside as an NHL player, and try to lock down a spot on the roster for next season.
Aaron Portzline of the Columbus Dispatch was first to report the signings on Twitter and the first to give us the details of each contract.
Photo courtesy of USA Today Sports Images.