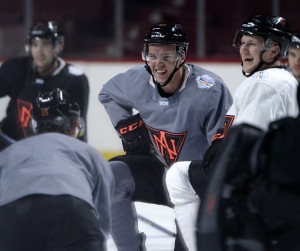 19 year-old Edmonton Oiler forward Connor McDavid was named Captain of Team North America in the World Cup of Hockey. Philadelphia Flyers' Sean Couturier and Florida Panthers' Aaron Ekblad were named Alternates.
McDavid leapfrogs older players on the roster such as Ryan Murray, Morgan Rielly, and Mark Scheifele, which speaks volumes about the faith GM Peter Chiarelli has with the young phenom. It is worth nothing that McDavid plays for Chiarelli's Oilers in the NHL, and the Oilers are currently captain-less. If McDavid handles the captaincy well, there should be no doubt that he'll be handed the 'C' when he returns to Edmonton.
Team North America features the best American and Canadian players under 24 on the same team in the World Cup of Hockey. Alongside McDavid is 2016 1st overall pick Auston Matthews, as well as still-unsigned RFAs Jacob Trouba and Johnny Gaudreau.