When the Devils picked up winger Timo Meier from San Jose prior to the trade deadline, GM Tom Fitzgerald noted that they didn't want to get into extension talks right away, instead preferring him to get fully integrated with the team.  However, Fitzgerald told NHL.com's Mike Zeisberger that those discussions will now begin this week.
Back in 2019, the 26-year-old signed a four-year, $24MM deal that was heavily backloaded.  Doing so gave the Sharks some cap flexibility while on the back end, it set up a $10MM qualifying offer.  That sparked some similar contracts being signed around the league and eventually, a change to the rules when the CBA was extended back in 2020 was made to eliminate the ballooning qualifying offer.  Now, instead of the qualifier being set at what the salary in the preceding season was, it's the lower of that number or 120% of the AAV of the previous contract.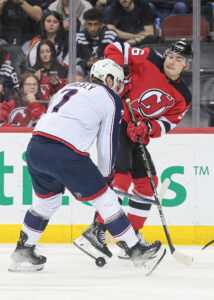 However, that rule change only applied to contracts signed after that stretch.  As a result, Meier is still subject to the old rule, meaning that New Jersey will have to tender him a $10MM qualifying offer later this month if they can't agree on a new contract by then.
Meier notched a career-high 40 goals this season between the Sharks and Devils although he was a bit quieter than expected in the playoffs, scoring just twice in 11 contests.  He has yet to reach the point-per-game mark in his career but he came close to doing so back in 2021-22.  Accordingly, while Meier is an accomplished scorer, it's fair to question if he's worth a $10MM contract for next season.
The Devils do have one way to bring that amount down, although it comes with some risk.  If they opt for club-elected arbitration, they can come in with an offer that's 85% of the required tender, or $8.5MM.  However, in return, Meier could simply go through the hearing, play for whatever is awarded, and then head straight to unrestricted free agency in 2024.  That's certainly not the outcome Fitzgerald would want after moving a first-round pick and another recent first-rounder (Shakir Mukhamadullin) plus a conditional pick that could become a first as part of the return to get Meier.
With that in mind, it's not surprising to see Fitzgerald planning to engage Meier's agent Claude Lemieux in discussions now with the hopes of getting something done before the calendar flips to July and the qualifying offer comes into play.  That contract, if finalized, is likely to come in lower than the $10MM qualifier but not necessarily by much, especially with the expectation that the salary cap will start to go up quicker starting in 2024.
Fitzgerald made it clear to Zeisberger that his goal is getting the winger locked up on a long-term agreement; we'll find out over the next few weeks if he's able to succeed on that front.
Photo courtesy of USA Today Sports Images.