The Colorado Avalanche are making another significant addition to their forward group. Elliotte Friedman of Sportsnet reports that Ross Colton will be moved from the Tampa Bay Lightning to the Avalanche. The Lightning will receive the 37th overall pick in the draft in return.
Colton, 26, is a pending RFA that will be eligible for arbitration and is just one year away from potential unrestricted free agency. The fourth-round pick from 2016 is another shining success story from the Tampa Bay development pipeline, arriving late but making an immediate impact at the NHL level.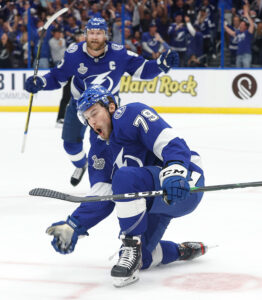 In his rookie season, Colton scored nine goals in 30 regular season games before a playoff performance to remember. He was a downright nuisance in the 2021 postseason and eventually scored the Stanley Cup-winning goal. In 2021-22, his first full season in the NHL, Colton scored 22 goals and once again was a significant contributor in the playoffs, scoring five goals (including two game-winners) during the Lightning's run to the Finals.
While his offensive performance took a slight step back this season, Colton still provided 16 goals and 32 points in 81 games, adding 188 hits and 50 penalty minutes. A versatile, in-your-face player that can fit on a powerplay or the fourth line, he'll help replace some of the depth the Avalanche have lost over the last few season.
The fact that Colton has some experience at center (but is not always lined up in the middle) could suggest that J.T. Compher will be headed elsewhere in free agency. After the acquisition of Ryan Johansen, Colton fits the bottom six much better than Alex Newhook, which Colorado moved to the Montreal Canadiens recently.
For Tampa Bay, there is only so much money to go around, and Colton is the latest cap casualty. His arbitration number was likely going to be too high for them to accommodate, meaning general manager Julien BriseBois will have to find another way to replace his presence in the lineup. Tanner Jeannot, acquired from the Nashville Predators for a huge haul of assets this year, may be part of that solution, given he plays a similar mix of physical hockey with offensive upside.
Jeannot is also an arbitration-eligible RFA, but coming off a much worse offensive season that will keep his number lower.
Still, the depth that was so critical to Tampa Bay's back-to-back Stanley Cup championships is starting to be chipped away, with key pieces moving out every year. Alex Killorn, who has spent his entire career with the Lightning, is set to be an unrestricted free agent this summer after an impressive 27-goal campaign.
With that in mind, getting a relatively high pick back is an interesting result. The Lightning could use the selection to add to their prospect pool or potentially turn it around and try to acquire another inexpensive player to help keep the window open. BriseBois and company have never been shy about trading draft selections.
Getting Colton without giving up one of their two first-round picks is an impressive play by Colorado and means they could still be involved in other trades ahead of tonight's event.
Photo courtesy of USA Today Sports Images