Free agency is now a little more than a month away and teams are looking ahead to when it opens up.  There will be several impact players set to hit the open market in July while many teams have key restricted free agents to re-sign as well.  We begin our look around the NHL with an overview of the free agent situation for the Anaheim Ducks.
Key Restricted Free Agents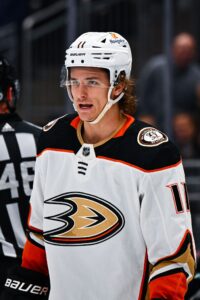 F Trevor Zegras – After finishing as the runner-up in Calder Trophy voting last season, Zegras took a small step forward this season, setting new benchmarks in assists (42) and points (65) while matching his goal total from 2021-22.  That allowed him to lead the team in scoring this season.  As a center, the 22-year-old is well-positioned to land a significant long-term deal if that's the way he chooses to go.  A max-term agreement could very well push the AAV past the $8MM mark.  However, with still five years of team control remaining (he didn't play enough in 2020-21 to accrue a season of service time for UFA purposes), it's possible that one or both sides look to a shorter-term bridge deal.  That would lower the AAV to somewhere in the $6MM range for now but potentially set Zegras up to push for much more down the road in a more favorable cap environment.  Whichever route they take, a big payday is coming his way.
F Troy Terry – In 2021-22, Terry narrowly edged out Zegras for the team lead in points.  This season, the tables were flipped but the 25-year-old still put up his second straight 60-point campaign after having just 48 career points over his first 129 NHL appearances.  One of the goals for Terry this year would have been to show that his breakout year wasn't a fluke.  Mission accomplished on that front and he is set to reap the benefits.  Two years away from UFA eligibility, Terry will have arbitration eligibility this summer and it's likely that GM Pat Verbeek will be looking to do a long-term agreement and avoid the potential for a hearing.  After playing on an AAV of $1.45MM the last three seasons, Terry's next deal could more than quadruple that cap charge.
D Jamie Drysdale – At a time when the Ducks have all three top CHL defensemen, it could be suggested that Drysdale has fallen off the radar.  The 21-year-old suffered a torn labrum in the eighth game of the season and that was it for his year.  At that to the fact that he only suited up 24 times in his first year and Drysdale has just 113 total NHL appearances under his belt and the Ducks are working with a small sample size here.  Drysdale, a 2020 first-round pick (sixth overall), is still a significant part of Anaheim's future but with such a limited sample size to work with and coming off a year that was more or less a write-off, a bridge contract is the likely outcome.  That could push his price tag closer to the $2MM range on a two-year deal and a bit closer to $2.5MM on a three-year term.
F Max Comtois – Two years ago, it looked like Comtois was coming into his own and was on his way to becoming at least a capable second-line power forward.  Players like those have a lot of value but then GM Bob Murray wanted to see if his performance was repeatable first.  That proved to be a wise move as Comtois simply hasn't been able to play at the same level, failing to reach 20 points for the second straight season.  He's owed a $2.445MM qualifying offer this summer which is a bit on the high side for someone struggling to produce.  On the other hand, losing him for free would sting with how important of a piece it looked like he was going to be not long ago.  Verbeek will need to decide if he'll give Comtois one more chance under a new head coach or if it's time to move on.
Other RFAs: D Axel Andersson, D Simon Benoit, G Lukas Dostal, G Olle Eriksson Ek, F Benoit-Olivier Groulx, F Bryce Kindopp, F Josiah Slavin
Key Unrestricted Free Agents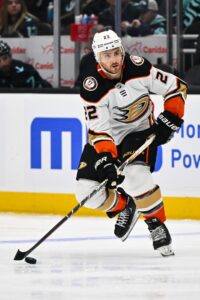 D Kevin Shattenkirk – While the stigma of having his four-year, $26.6MM deal bought out by the Rangers back in 2019 still exists, Shattenkirk has settled in nicely in a lesser role first with Tampa Bay and the last three seasons with Anaheim.  The 34-year-old has been a capable secondary producer throughout his career while becoming more of a willing shot-blocker recently.  His days of playing on the top pairing are gone but as a fourth defender capable of logging around 20 minutes a night, there should be some interest in Shattenkirk once some of the big names come off the board.  He had a $3.9MM AAV on his deal with Anaheim and the veteran should be able to come somewhat close to that on his next contract.
G Anthony Stolarz – This season was one to forget for Stolarz (the same can basically be said for many of Anaheim's veterans) but prior to that, he has shown some promise in limited duty, including a .917 SV% in 23 starts back in 2021-22.  The 29-year-old isn't going to be near the top of the market for goaltenders but budget-conscious teams looking for a cheap second-stringer with a bit of upside should be looking his way.  That mindset will likely describe a few teams which should give Stolarz a decent market and a shot at surpassing the $1MM mark for the first time in his career.
F Derek Grant – It wasn't a great platform year for the veteran who had multiple stints on injured reserve, limiting him to just 46 games.  However, he still managed to pick up 18 points in those contests, a year after collecting 15 goals and 29 points, both career highs.  The 33-year-old also won more than 55% of his faceoffs while logging plenty of ice time shorthanded.  Now with over 400 games under his belt, Grant is well-known at this point as a defensively capable middleman that can chip in a bit offensively.  Those players don't get big contracts in free agency but he should have several offers that come in around the $1.5MM he has made in each of the last three seasons.
Other UFAs: D Nathan Beaulieu, D Michael Del Zotto, D Scott Harrington, F Justin Kirkland, F Jayson Megna, D John Moore, D Olli Juolevi, D Chase Priskie, F Dylan Sikura, D Andrej Sustr
Projected Cap Space
Cap space won't be an issue for Anaheim this offseason as they currently have more than $39MM in cap space based on the projected $83.5MM Upper Limit for next season.  New deals for Zegras and Terry will take a sizable chunk out of that but the Ducks still project to be well under the cap for 2023-24, one that is expected to be another rebuilding effort.  If there is budget room for them to take on a bad contract or two while being compensated for it with prospects and/or draft picks, they could be a team to watch for in the coming weeks.
Photos courtesy of USA Today Sports Images.  Contract information courtesy of CapFriendly.