The month of April has come to an end with the bulk of the first round now concluded.  Meanwhile, off the ice, there was some news of note around the hockey world which is recapped in our key stories.
Hallander Signs In Sweden: Penguins prospect Filip Hallander has shown some promise in his young career after being drafted in the second round in 2018.  The 22-year-old has seen limited NHL action in his two North American seasons but that will be it for a while as Hallander signed a five-year contract with Timra in Sweden.  Pittsburgh can tender him a qualifying offer to keep his rights but since he will be an unrestricted free agent when his deal is up in 2028, there won't be much value in holding those rights.  It's certainly a disappointing outcome for the Penguins as one of their more intriguing prospects has ended his time with the team much earlier than expected.
Braun Retires: After a tough season with the Flyers that saw him spend time as a healthy scratch and on the wing, defenseman Justin Braun has opted to not test the open market this summer and instead has called it a career, announcing his retirement.  The 36-year-old hangs up his skates following a 13-year career spanning over 800 regular season appearances in the NHL plus another 119 playoff games with the Sharks, Rangers, and Flyers.  Braun was never a big point producer (he finishes just one shy of 200) but was a reliable defensive defender in his prime that could kill penalties and provide a physical presence while playing around 20 minutes a night.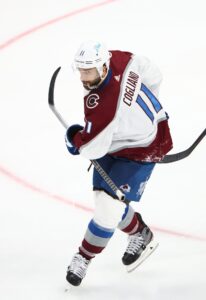 Cogliano Injury: Andrew Cogliano's playoffs have come to an early end as the veteran suffered a fractured neck on a hit from Seattle winger Jordan Eberle in the sixth game of their series.  The 35-year-old has been a reliable bottom-six forward throughout the year, chipping in with ten goals during the season.  He has had a similar role for the bulk of his career which spans more than 1,200 games with five different teams over 16 years.  Eberle received a minor penalty on the play and no further supplemental discipline, something that couldn't be said for Cogliano's teammate Cale Makar who received a one-game suspension for his hit on Jared McCann earlier in the week.
Offer Sheet Thresholds: It's very rare that a player actually signs an offer sheet but it is a tool that teams have at their disposal if they want to try to use it.  With that in mind, the various compensation tiers were set.  The top rate, one that would see a team surrender four first-round picks, kicks in just past the $10.75MM mark, one that teams will likely want to stay away from while a $6.435MM offer would only cost a team first- and third-round selections.  Of note, the divisor on an offer sheet is five; if an offer sheet is signed that's longer than five years, the total salary is divided by five to determine the compensation tier.  Also worth noting is that teams must have their own draft picks to sign a player to an offer sheet, they can't substitute one acquired from another team.
Global Series: Earlier this month, it was confirmed that the NHL would host preseason games in Australia but that's only part of their international schedule.  There is typically a regular season component and this one will feature four teams this time as Sweden will play host to four games in November.  Toronto, Ottawa, Detroit, and Minnesota will be the four teams participating.  The Red Wings and Wild will each have one home and one away game while the Senators will have both of their contests qualify as home games while both Maple Leafs' ones will be road affairs.
Photo courtesy of USA Today Sports Images.