The final full week of March has come to an end.  With most transactions being on hold until the offseason, the injury situation around the league dominates the key stories.
Pettersson To LTIR: The Penguins will be without one of their top four defensemen for the stretch run with Marcus Pettersson being placed on LTIR with a lower-body injury.  It has been a bit of a resurgent season for the 26-year-old as he has upped his playing time by nearly five minutes per night while improving on his point total; his 24 points are one behind his career high.  His absence certainly hurts Pittsburgh as they look to hold onto a Wild Card spot.  However, the placement also alleviates their salary cap situation, putting them in a spot where they will be able to afford some recalls over the final few weeks without having to worry about having to play short a player while waiting for approval for a cap-exempt recall.
Carlson Returns: On the opposite side of the injury front, the Capitals welcomed back defenseman John Carlson.  Washington's top blueliner missed more than three months with an upper-body injury that Carlson himself later confirmed was a small skull fracture above his right ear and a severed temporal artery.  While this isn't going to help lead Washington to the postseason, it's certainly a positive sign that he's able to return.  Carlson definitely came back in style, picking up two points in his first game back.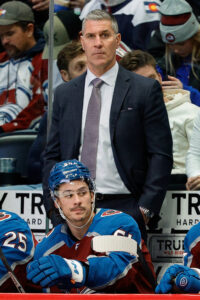 Bednar Signs Extension: Jared Bednar won't be leaving Colorado's bench anytime soon after the team signed him to a three-year contract extension.  That deal won't kick in until 2024-25 as the bench boss already had another year on his deal after this one.  He earned himself quite a raise as CapFriendly notes that Bednar's salary will jump from $2.25MM per season on this contract to $4.75MM on the new one.  The raise and extra job security are certainly well-deserved.  He helped lead the Avs to the Stanley Cup last season and the team has compiled a 282-191-52 record over seven seasons under his tutelage, good for a .587 points percentage.  Bednar is second in franchise history in games coached (behind Michel Bergeron going back to their Quebec days) but will take over the all-time record early in the first year of this new contract.
College Signings: As NCAA teams are being eliminated, there has been an uptick in college prospects signing.  The bulk of those have been players signing with their own teams but a few teams have turned to the free agent market.  The Blue Jackets signed center Hunter McKown out of Colorado College and he has already made his NHL debut, getting into a pair of games while picking up an assist.  Meanwhile, the Jets added forward Parker Ford out of Providence College while the Canucks agreed to terms with center Max Sasson.  Their contracts will begin next season, allowing them to report to the minors for the rest of 2022-23.
More Injuries: There were quite a few other injuries of note around the league this week.  Bruins defenseman Derek Forbort will miss the rest of the regular season due a lower-body injury.  He won't require surgery.  Boston could now transfer him to LTIR to open up some cap flexibility for recalls down the stretch.  Meanwhile, the Senators will be missing defenseman Jakub Chychrun for a couple of weeks with a lower-body injury of his own which will make their late playoff push a little harder.  Up front, Canadiens winger Josh Anderson is out for the season with a high ankle sprain while the Blue Jackets won't have Patrik Laine for two-to-four weeks because of a triceps strain.  Columbus had been testing Laine down the middle before the injury.
Photo courtesy of USA Today Sports Images.