The Boston Bruins aren't done yet. After landing Garnet Hathaway, Shane Bowers, and Dmitry Orlov last week, they're now set to add even more punch to their group. The Bruins have acquired Tyler Bertuzzi from the Detroit Red Wings.
In return, they will send their 2024 first-round pick and a 2025 fourth-round pick. Detroit retains 50% of Bertuzzi's remaining salary, and the first-round selection is top-10 protected.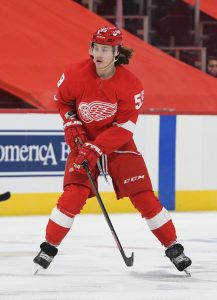 It's not like the Bruins need any more help, as they can become the fastest team in NHL history to 100 points with a win (or overtime/shootout loss) against the Buffalo Sabres tonight. The 47-8-5 Bruins are the class of the NHL already, and will only get better with the addition of the pending free agent forward.
Bertuzzi, 28, has only played in 29 games this season but is coming off a 30-goal campaign and is exactly the kind of in-your-face player that Boston has coveted for years.
Given the Bruins have recently lost some forwards to injury—Taylor Hall is seeking a second opinion on his lower-body issue, according to Darren Dreger of TSN—Bertuzzi could immediately get elevated into a significant role in the Boston lineup.
Pierre LeBrun of The Athletic reports that the last contract negotiations between the Red Wings and Bertuzzi were in December, with no progress on a possible extension. With recent losses turning the Red Wings into sellers, this was one of the biggest chips that general manager Steve Yzerman had available.
Landing another first-round pick means the Red Wings now have four over the next two drafts, to go along with three second-round selections this year. Whether they actually use those for prospects remains to be seen, as this week's extension of Dylan Larkin signals the team is ready to start competing for the playoffs.
If Bertuzzi wasn't going to re-sign, though, the Red Wings did well to land a significant asset during a down year. Limited by injury, he has just four goals on the season. Retaining half of his $4.75MM contract makes it worth it for the Bruins, as they load up for a Stanley Cup run with Patrice Bergeron and David Krejci on bargain-basement contracts.
In fact, nearly the entire Bruins forward group is on expiring deals. Bergeron, Krejci, Hathaway, David Pastrnak, Nick Foligno, and Tomas Nosek are scheduled for unrestricted free agency this summer. If the unthinkable were to happen, and Pastrnak takes his talents elsewhere (or Bergeron decides to retire), going all-in on this deadline makes perfect sense.
With more than 24 hours left before the deadline, the Eastern Conference (and the Atlantic Division in particular) continues its arms race.
Elliotte Friedman of Sportsnet broke news of the trade on Twitter. 
Photo courtesy of USA Today Sports Images