With the All-Star break now upon us, the trade deadline looms large and is just over a month away. Where does each team stand and what moves should they be looking to make? We continue our look around the league with the Chicago Blackhawks.
Just like the Anaheim Ducks, who we covered yesterday, the aim for Chicago is to lose as many games as possible down the stretch. The coaching staff won't be trying to lose, meaning the front office will have to do the work for them by stripping the roster of as much NHL talent as possible.
That doesn't mean just older players on expiring contracts, either. General manager Kyle Davidson has made it clear with the trades of Alex DeBrincat, Brandon Hagel, and Kirby Dach that he's gutting this team before building it up with the players he chooses. Contract term or youth doesn't mean off-limits for the Blackhawks, who are one of the most interesting teams to watch over the next few weeks.
Record
15-29-4, 8th in the Central
Deadline Status
Seller
Deadline Cap Space
$16.06MM today, $26.77MM in deadline space, 0/3 retention slots used, 44/50 contracts used, per CapFriendly.
Upcoming Draft Picks
2023: CHI 1st, TBL 1st, CHI 2nd, TBL 2nd, CHI 3rd, DAL 3rd, CHI 4th, CHI 5th, CHI 7th
2024: CHI 1st, TBL 1st, CHI 2nd, VAN 2nd, CHI 3rd, OTT 3rd, CHI 5th, CGY 5th, CHI 6th, CHI 7th
Trade Chips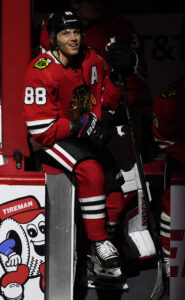 All eyes are on Patrick Kane and Jonathan Toews, who are coming to the end of their matching eight-year, $84MM contracts. Both have full no-movement clauses, meaning they can control their destiny, and both have $10.5MM cap hits with barely any actual salary left to pay out. These are two Blackhawks legends who have won three Stanley Cup championships, multiple individual awards, and have never suited up for another team.
In a normal situation, it would be easy to assume they re-sign and spend their entire careers in Chicago. But this isn't a normal situation, and it appears that new homes are coming for them one way or another. If it's going to come in the summer anyway, perhaps Kane and Toews agree to help the franchise they have dedicated themselves to for so long, and waive their protection to bring assets back to the Blackhawks. But they won't be easy trades to pull off given those massive cap hits.
Beyond the two franchise icons there are a number of other pieces that should be in play. Max Domi and Andreas Athanasiou signed one-year, $3MM deals last summer that immediately looked like deadline bait, while defensemen like Connor Murphy and Jake McCabe have seen their names in trade rumors. The latter two both have significant term left on their contracts (Murphy is signed through 2025-26 and McCabe through 2024-25), making them a little more complicated than a deadline rental deal, but could still be strong additions for contenders looking to beef up the back end.
What about Stanley Cup champion Jack Johnson, who is on an expiring deal of his own? Or Sam Lafferty, signed through next year at a reasonable amount and enjoying a nice season in Chicago?
Other potential trade chips: D Ian Mitchell, G Alex Stalock, F Philipp Kurashev
Team Needs
1) Draft picks: The Blackhawks aren't trying to rebuild on the fly. They don't need NHL-ready talent. It's all about the draft, and how they can build up a class of players to support what will likely be several top-five picks over the next few years. If they can secure the next potential Kane and Toews – Connor Bedard and Michael Misa, for instance – they'll need to find all the support players that are required to really contend. That's what you can get at the deadline, and that's what they'll be after.
2) Potential flips: Don't think that Chicago didn't notice the way the Arizona Coyotes had dealt with a player like Shayne Gostisbehere. They had cashed in when acquiring him, and were about to cash in again at the deadline, had he not been injured. Acquiring a good player on a bad contract (along with a sweetener) just to turn around and sell him down the road after powerplay time boosts his numbers? Sounds like a recipe for success, and exactly the kind of opportunity that the Blackhawks front office will be looking for.
Photo courtesy of USA Today Sports Images